Entertainment
Adam Sandler Finds The Next Great NBA Star In Netflix's Hustle Trailer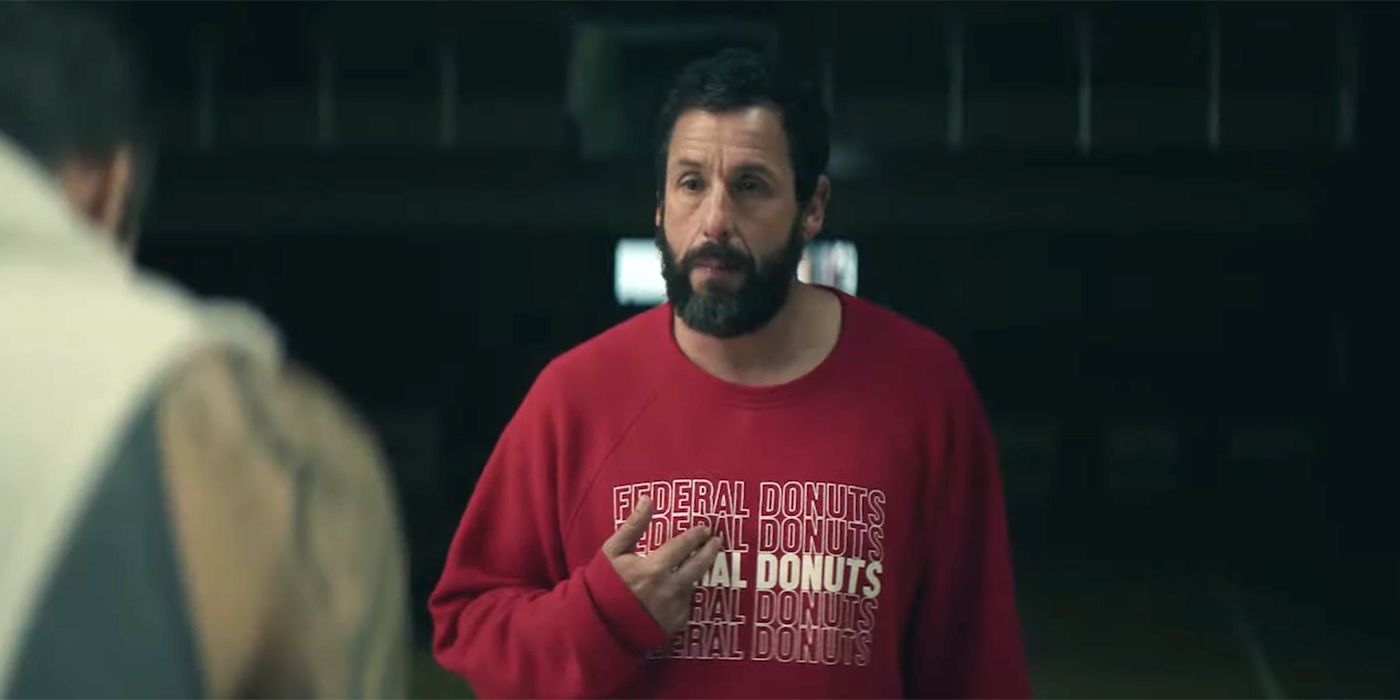 Netflix unveils a new Hustle trailer showing Adam Sandler tapping into his dramatic chops as a basketball scout inspiring a future star. The sports drama revolves around Stanley Beren, a down-on-his luck scout who travels endlessly for the Philadelphia 76ers in search of new players. When he discovers a powerhouse new star with a checkered past in Spain, Beren brings him to the United States without his team's approval in the hopes of proving to themselves they have what it takes to make it into the NBA.
Alongside Sandler, the cast for Hustle includes Queen Latifah as Beren's wife, Ben Foster, Robert Duvall, Juancho Hernangómez, Jordan Hull and JoJo Siwa. Development on the film was first announced in early 2020 when Sandler signed on to star and produce the sports drama with NBA star LeBron James, with production kicking off later that year on location in Philadelphia. Hustle is gearing up to make its Netflix debut and now audiences are getting a new glimpse at the upcoming movie.
With a month remaining until the film hits the streaming platform, Netflix has released a new Hustle trailer. The video offers a deeper look at the sports drama starring Adam Sandler as a struggling basketball scout betting his future on a potential new star. Check out the moving trailer below:
Click here to watch the trailer
Though better known for his poorly received comedies, audiences have been eagerly awaiting the arrival of Sandler in his dramatic return for Hustle, namely as it looks to outshine his string of Netflix duds. Sandler has occasionally broken away from the comedy genre for rave reviews in the 2004 dramedy Spanglish, 2007's Reign Over Me and Judd Apatow's Funny People. Sandler's most notable dramatic turns came thanks to Paul Thomas Anderson's 2002 romantic dramedy Punch-Drunk Love, for which he earned a Golden Globe nomination for Best Actor — Motion Picture Musical or Comedy, and most recently in the Safdie brothers' Uncut Gems, which many hailed as his career-best performance.
The new Hustle trailer may feature more humor than his acclaimed crime thriller, but it is sure to help build further anticipation for Sandler fans eager to see another against-type performance from the star. Tapping into his own real love for the sport, Sandler looks to be channeling the most inspirational of NBA coaches and stars from over the years for his struggling basketball scout character, delivering a number of moving speeches and hopeful promises in his drive to deliver his team the next great NBA star. Only time will tell if the film can live up to Sandler's other recent dramatic works when Hustle hits Netflix on June 10.
Source: Netflix
---
More information
Adam Sandler Finds The Next Great NBA Star In Netflix's Hustle Trailer
Netflix unveils a new Hustle trailer showing Adam Sandler tapping into his dramatic chops as a basketball scout inspiring a future star. The sports drama revolves around Stanley Beren, a down-on-his luck scout who travels endlessly for the Philadelphia 76ers in search of new players. When he discovers a powerhouse new star with a checkered past in Spain, Beren brings him to the United States without his team's approval in the hopes of proving to themselves they have what it takes to make it into the NBA.
Alongside Sandler, the cast for Hustle includes Queen Latifah as Beren's wife, Ben Foster, Robert Duvall, Juancho Hernangómez, Jordan Hull and JoJo Siwa. Development on the film was first announced in early 2020 when Sandler signed on to star and produce the sports drama with NBA star LeBron James, with production kicking off later that year on location in Philadelphia. Hustle is gearing up to make its Netflix debut and now audiences are getting a new glimpse at the upcoming movie.
With a month remaining until the film hits the streaming platform, Netflix has released a new Hustle trailer. The video offers a deeper look at the sports drama starring Adam Sandler as a struggling basketball scout betting his future on a potential new star. Check out the moving trailer below:
Click here to watch the trailer
Though better known for his poorly received comedies, audiences have been eagerly awaiting the arrival of Sandler in his dramatic return for Hustle, namely as it looks to outshine his string of Netflix duds. Sandler has occasionally broken away from the comedy genre for rave reviews in the 2004 dramedy Spanglish, 2007's Reign Over Me and Judd Apatow's Funny People. Sandler's most notable dramatic turns came thanks to Paul Thomas Anderson's 2002 romantic dramedy Punch-Drunk Love, for which he earned a Golden Globe nomination for Best Actor — Motion Picture Musical or Comedy, and most recently in the Safdie brothers' Uncut Gems, which many hailed as his career-best performance.
The new Hustle trailer may feature more humor than his acclaimed crime thriller, but it is sure to help build further anticipation for Sandler fans eager to see another against-type performance from the star. Tapping into his own real love for the sport, Sandler looks to be channeling the most inspirational of NBA coaches and stars from over the years for his struggling basketball scout character, delivering a number of moving speeches and hopeful promises in his drive to deliver his team the next great NBA star. Only time will tell if the film can live up to Sandler's other recent dramatic works when Hustle hits Netflix on June 10.
Source: Netflix
#Adam #Sandler #Finds #Great #NBA #Star #Netflixs #Hustle #Trailer
Adam Sandler Finds The Next Great NBA Star In Netflix's Hustle Trailer
Netflix unveils a new Hustle trailer showing Adam Sandler tapping into his dramatic chops as a basketball scout inspiring a future star. The sports drama revolves around Stanley Beren, a down-on-his luck scout who travels endlessly for the Philadelphia 76ers in search of new players. When he discovers a powerhouse new star with a checkered past in Spain, Beren brings him to the United States without his team's approval in the hopes of proving to themselves they have what it takes to make it into the NBA.
Alongside Sandler, the cast for Hustle includes Queen Latifah as Beren's wife, Ben Foster, Robert Duvall, Juancho Hernangómez, Jordan Hull and JoJo Siwa. Development on the film was first announced in early 2020 when Sandler signed on to star and produce the sports drama with NBA star LeBron James, with production kicking off later that year on location in Philadelphia. Hustle is gearing up to make its Netflix debut and now audiences are getting a new glimpse at the upcoming movie.
With a month remaining until the film hits the streaming platform, Netflix has released a new Hustle trailer. The video offers a deeper look at the sports drama starring Adam Sandler as a struggling basketball scout betting his future on a potential new star. Check out the moving trailer below:
Click here to watch the trailer
Though better known for his poorly received comedies, audiences have been eagerly awaiting the arrival of Sandler in his dramatic return for Hustle, namely as it looks to outshine his string of Netflix duds. Sandler has occasionally broken away from the comedy genre for rave reviews in the 2004 dramedy Spanglish, 2007's Reign Over Me and Judd Apatow's Funny People. Sandler's most notable dramatic turns came thanks to Paul Thomas Anderson's 2002 romantic dramedy Punch-Drunk Love, for which he earned a Golden Globe nomination for Best Actor — Motion Picture Musical or Comedy, and most recently in the Safdie brothers' Uncut Gems, which many hailed as his career-best performance.
The new Hustle trailer may feature more humor than his acclaimed crime thriller, but it is sure to help build further anticipation for Sandler fans eager to see another against-type performance from the star. Tapping into his own real love for the sport, Sandler looks to be channeling the most inspirational of NBA coaches and stars from over the years for his struggling basketball scout character, delivering a number of moving speeches and hopeful promises in his drive to deliver his team the next great NBA star. Only time will tell if the film can live up to Sandler's other recent dramatic works when Hustle hits Netflix on June 10.
Source: Netflix
#Adam #Sandler #Finds #Great #NBA #Star #Netflixs #Hustle #Trailer
---
Synthetic: Vik News