Guides
How to create hybrid flowers in Animal Crossing New Horizons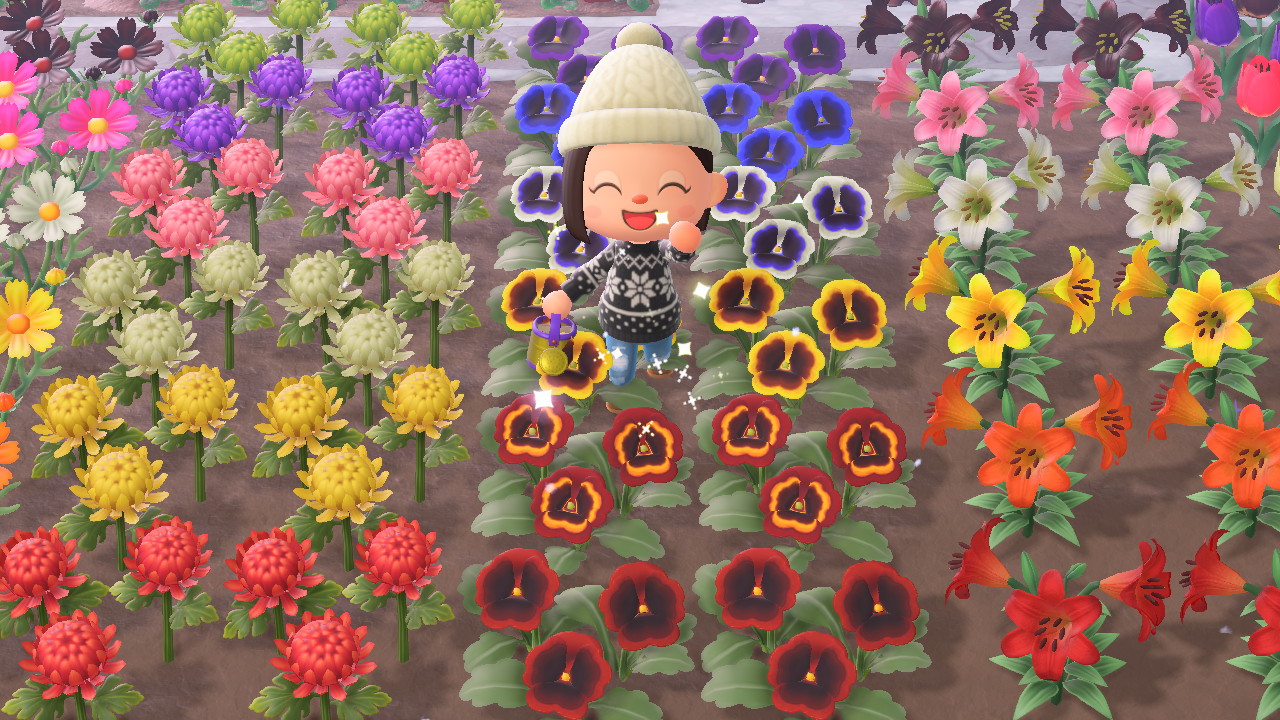 Being to understand how to grow a full set of Animal Crossing New Horizons flower hybrids is a mix of hard work and luck. You'll have to plant flowers carefully, water them daily and generally tend to them daily if you want to breed all the hybrid flowers in Animal Crossing New Horizons. 
It's worth it though as the all the color variations, or hybrids, you can grow can really add to your island. Both in terms of looks and customisation as much as bragging rights when people see what you've got on display. There are also new breeds that haven't featured in the series before too, so it makes the process even more exciting for players old and new to discover. 
Coming up we have all the details for the Animal Crossing New Horizons flower hybrids for you to unlock. As well as how to create hybrid flowers, and the best planting practices to follow for success, so check it out.
Flower types
How to get all Animal Crossing New Horizons flowers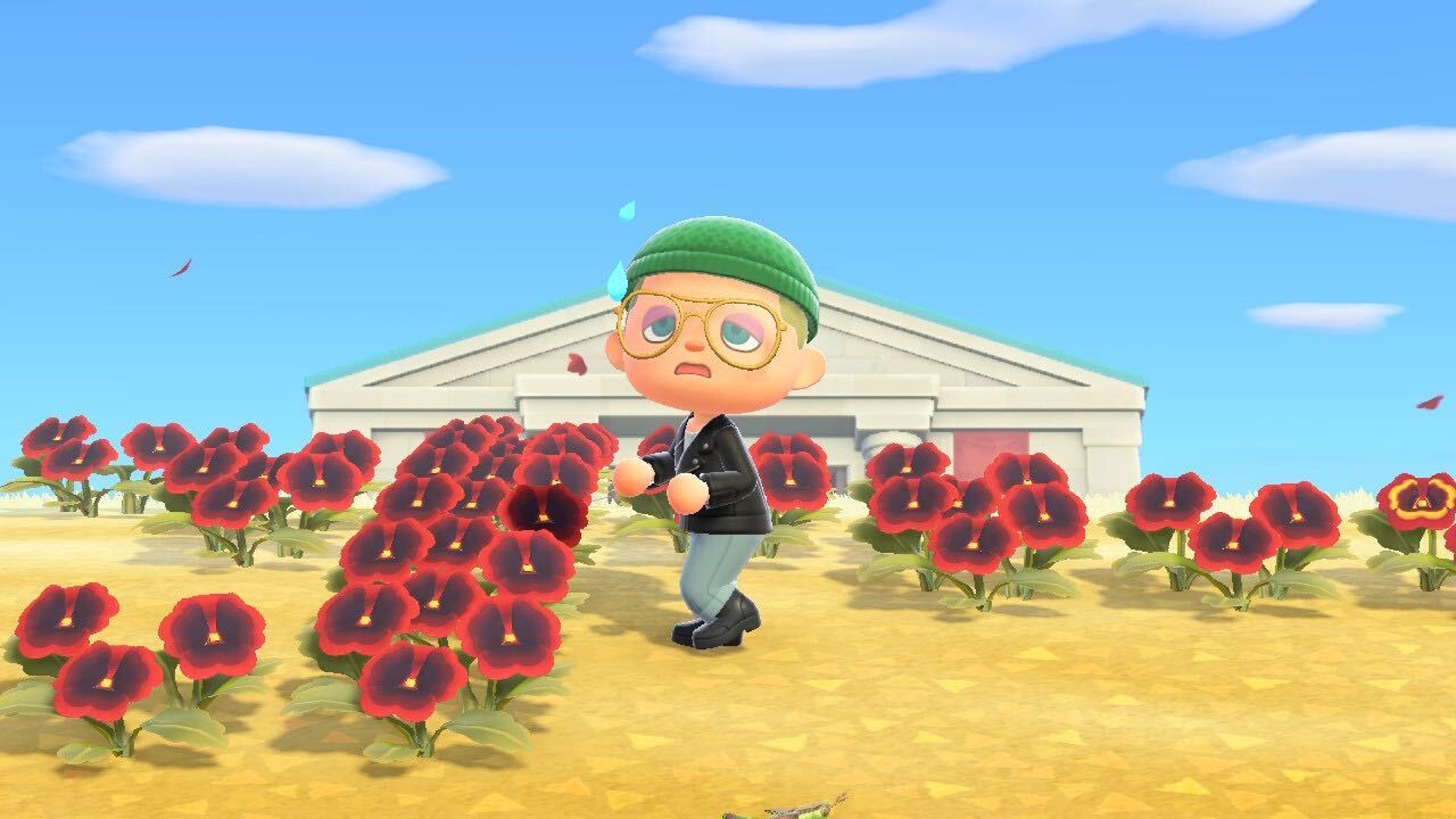 (Image credit: Nintendo)
Like with the Animal Crossing: New Horizons fruit, you will have a certain number of flowers native to your island. On mine, for example, I grew pansies, hyacinths and windflowers natively, but had to travel to friends' islands to gather the rest. You can get lucky using Nook Miles Tickets trips, but I've not had any luck with that despite all the money I've spent on tickets.
Here's the full list of Animal Crossing: New Horizons flowers available:
Cosmos
Hyacinths
Lilies
Mums
Pansies
Roses
Tulips
Windflowers
Hybrid flowers
How to create Animal Crossing New Horizons hybrid flowers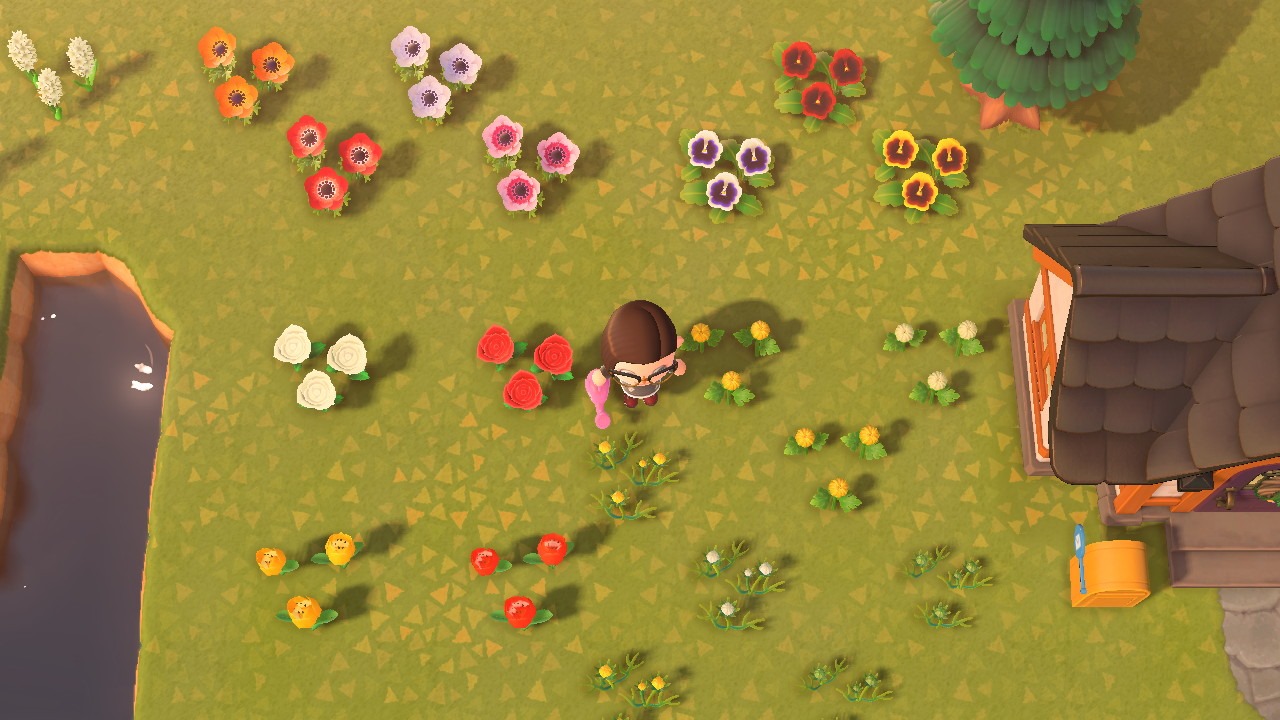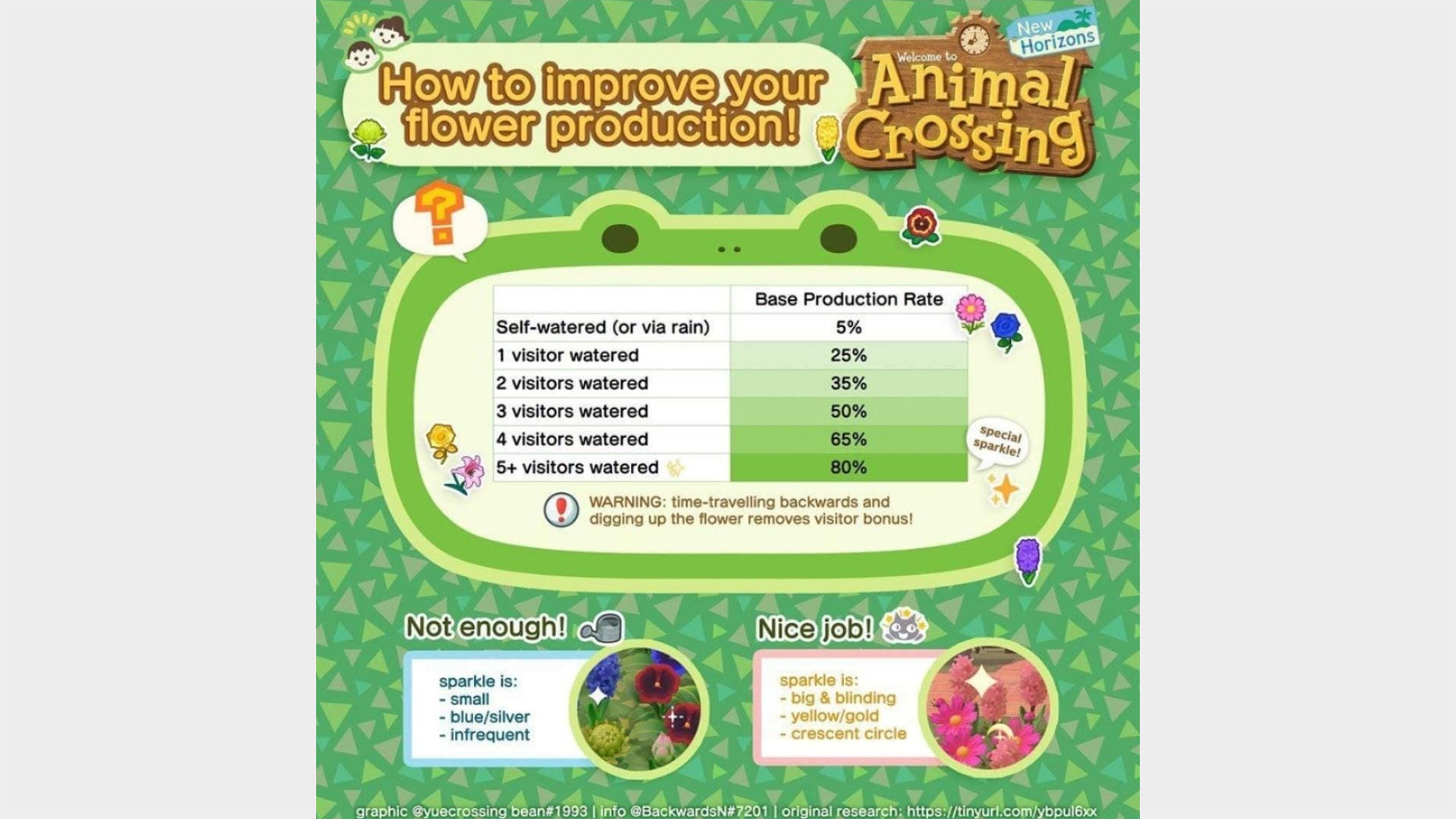 Color variations
Cosmos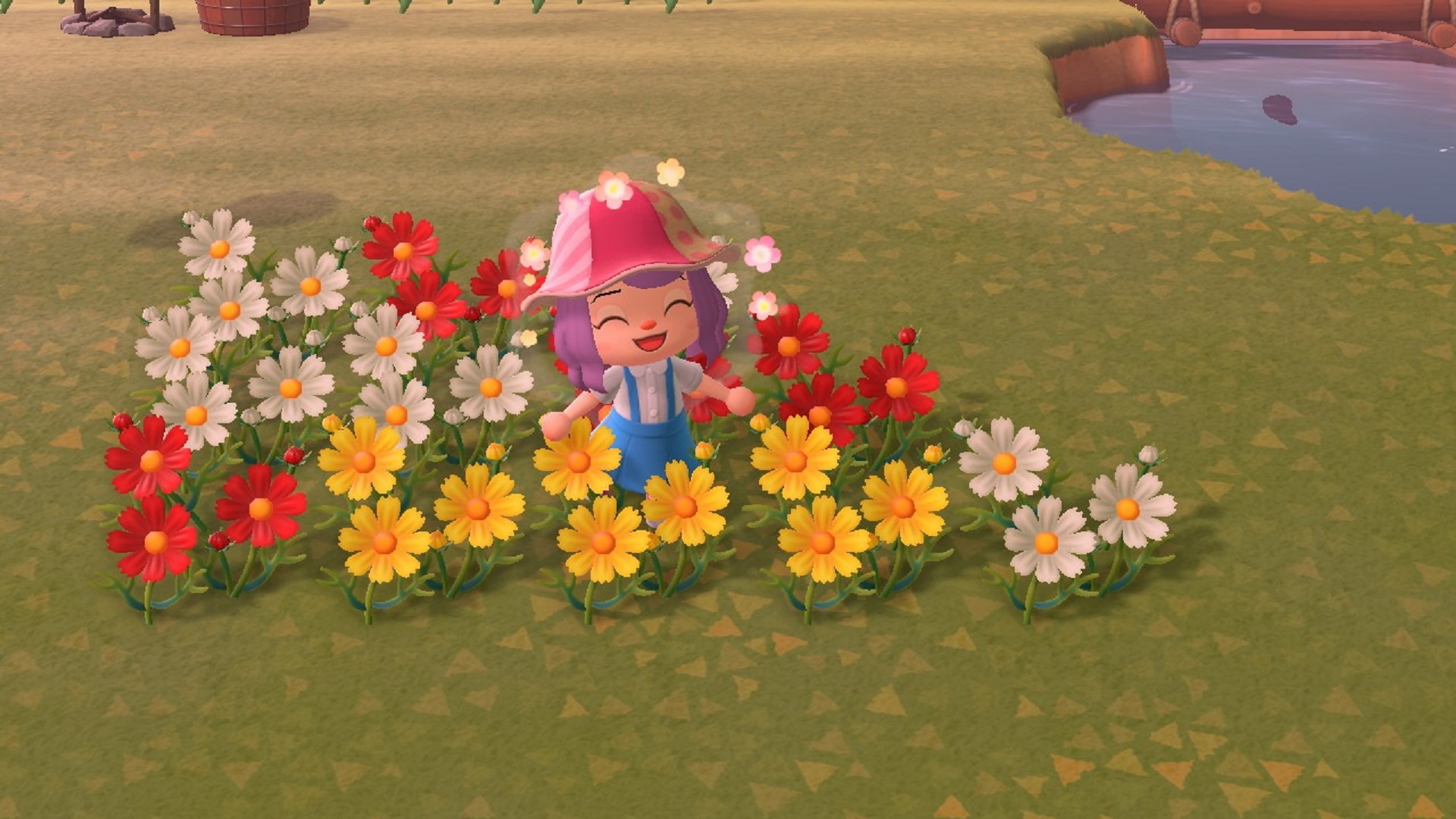 Hyacinths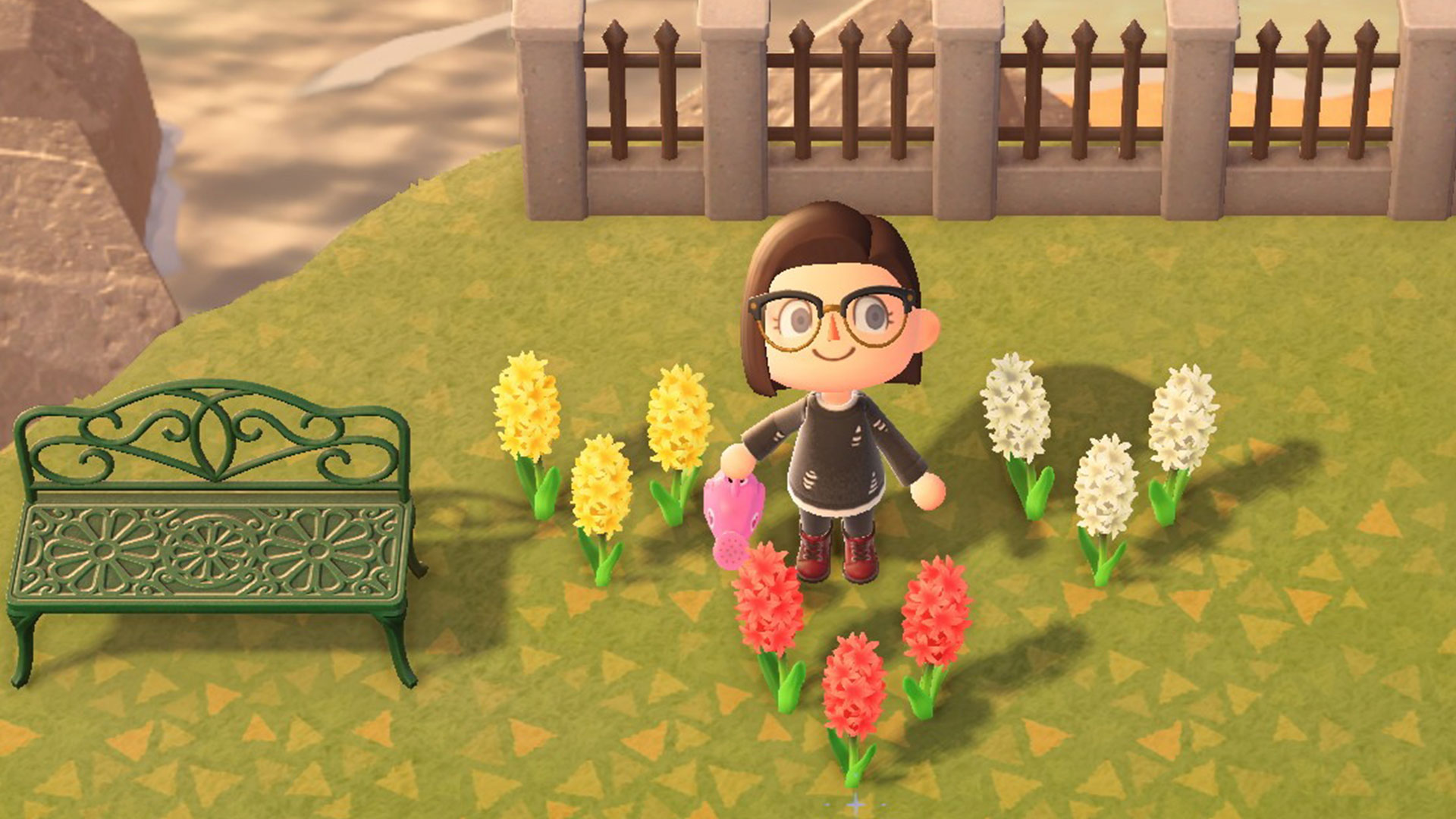 Lillies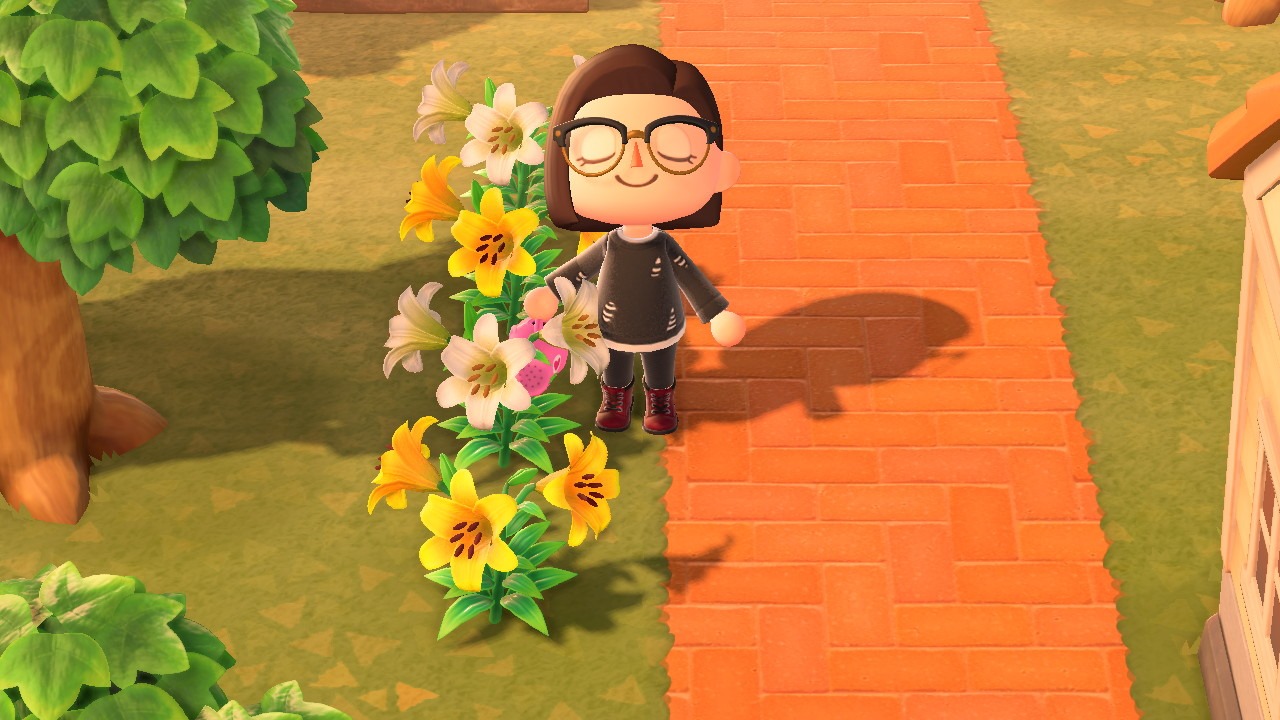 Mums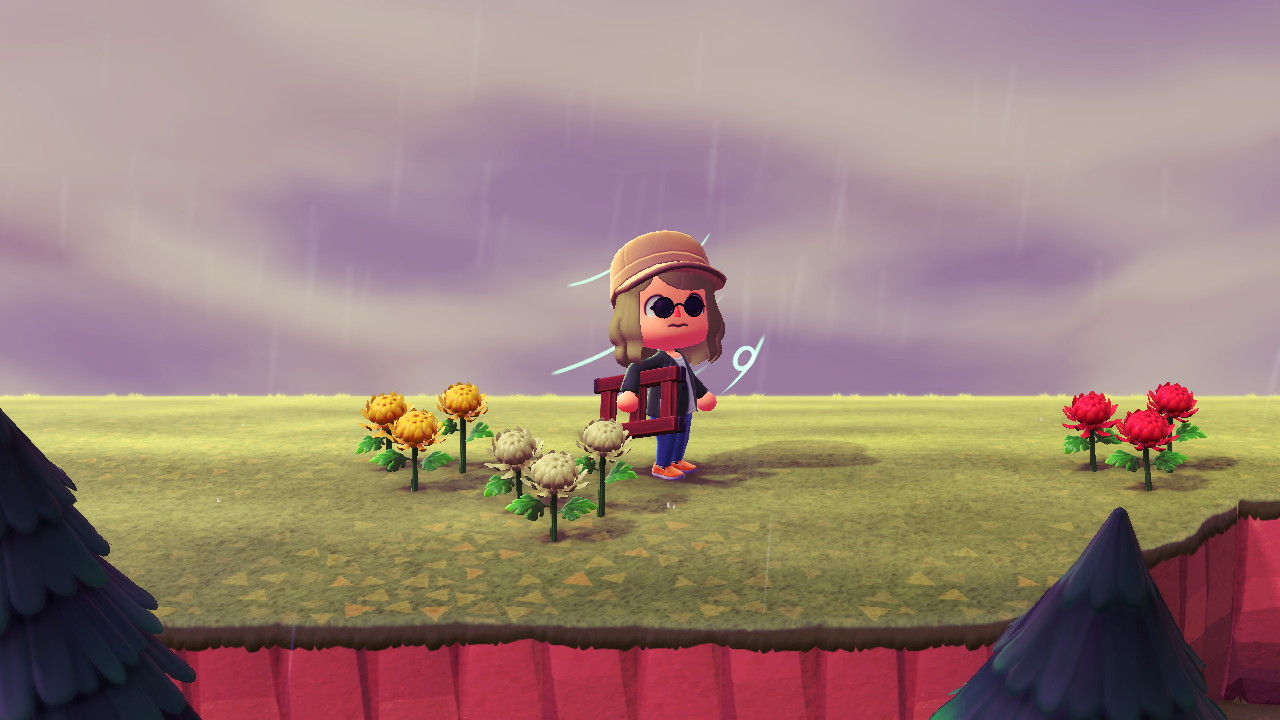 Pansies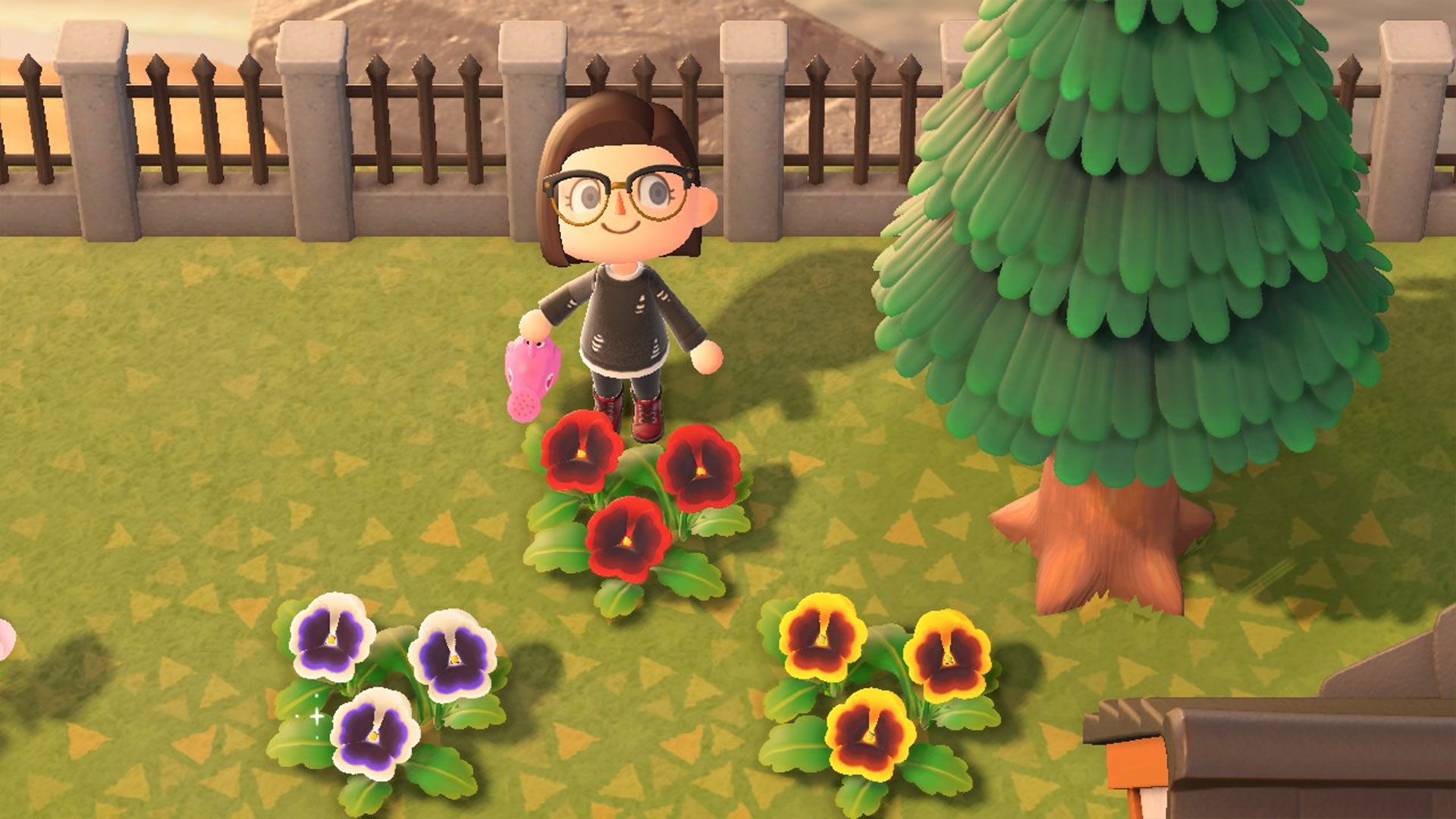 Roses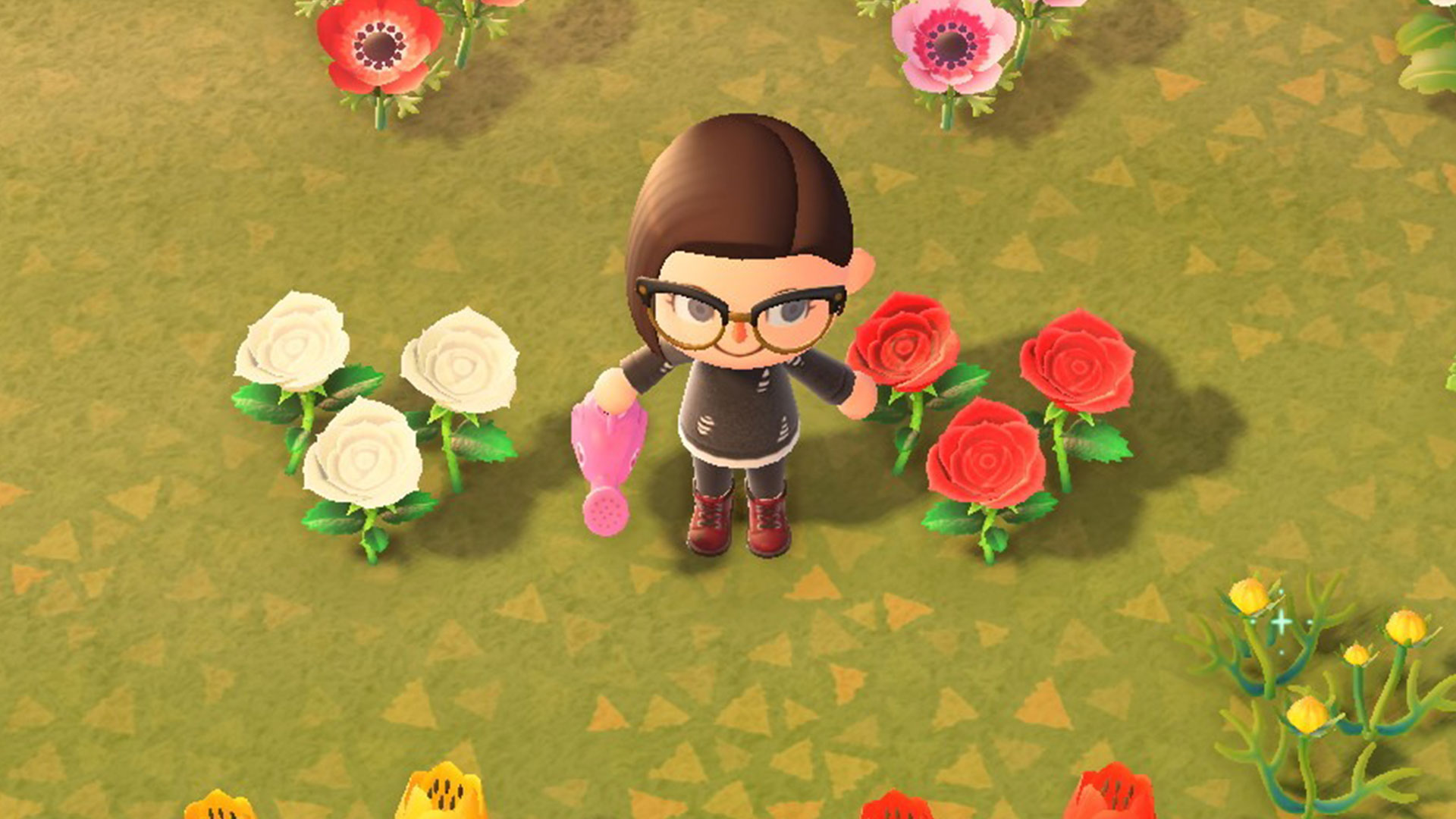 Tulips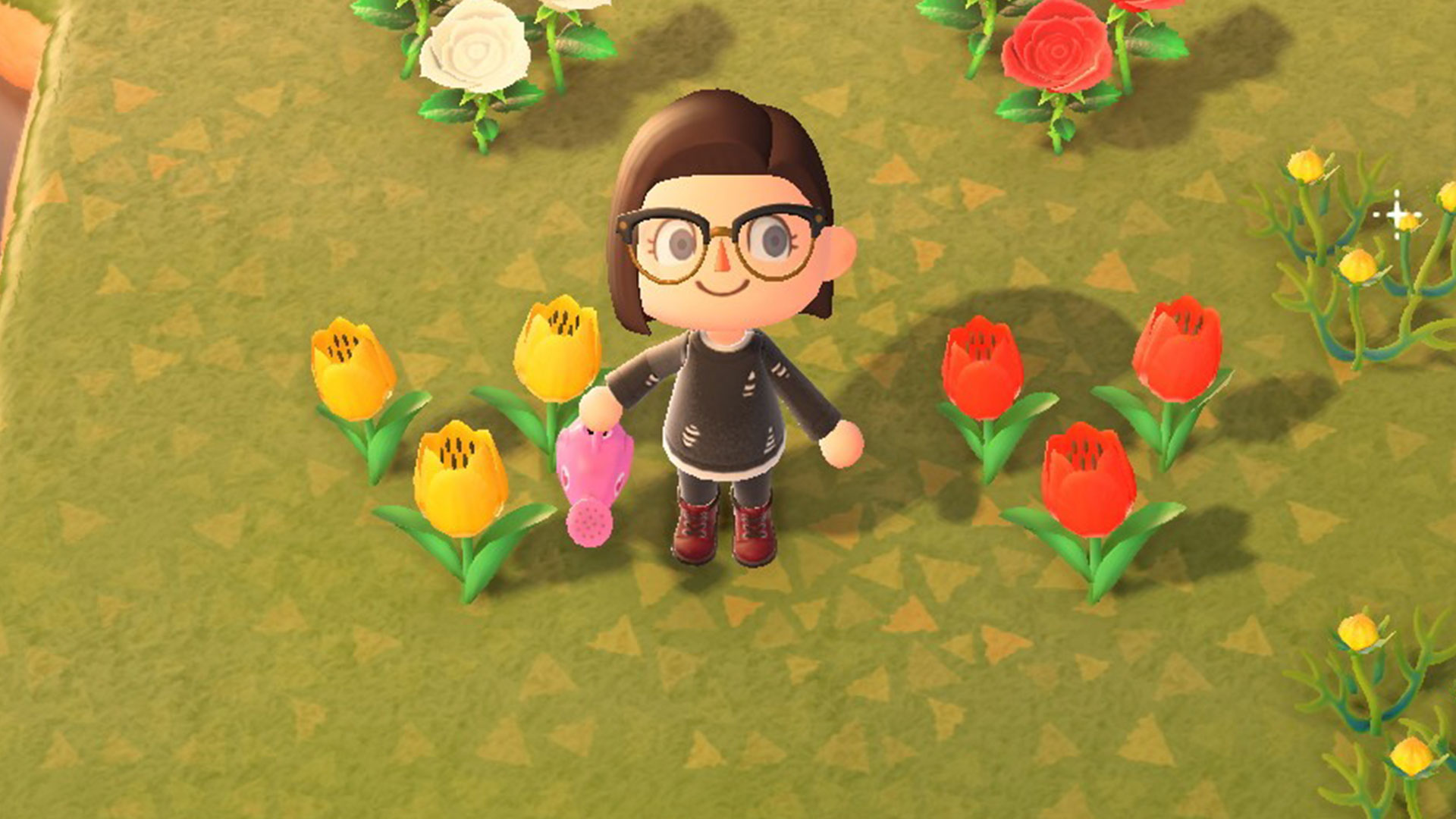 Windflowers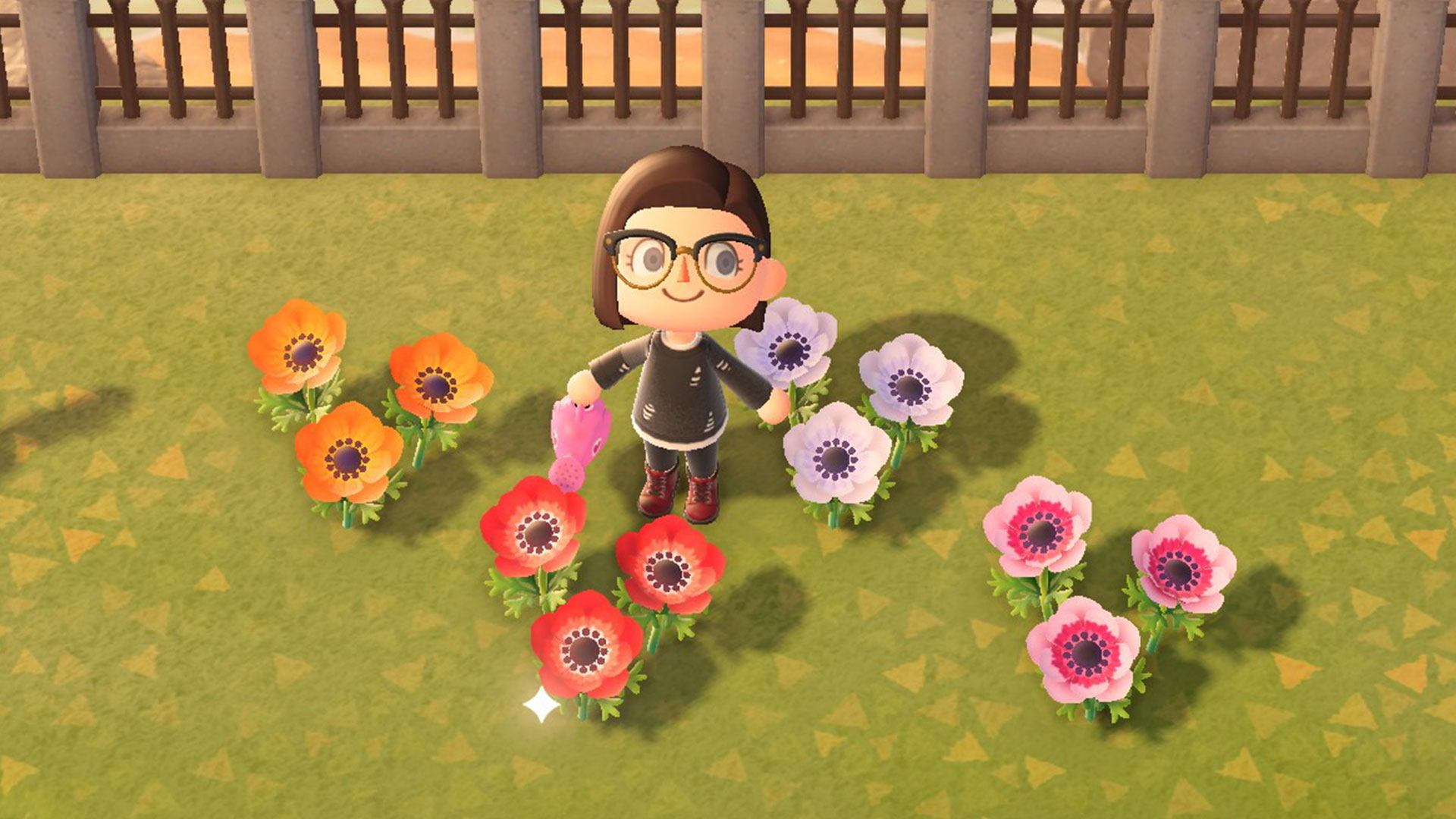 (Image credit: Nintendo)
Red
Red x Red: Red (common), Blue (rare), Purple (rare), Pink (rare)
Red x Orange: Orange (common), Pink (common), Blue (very rare), Purple (very rare), Red (very rare)
Red x White: White (rare), Red (rare), Pink (rare), Blue (very rare)
Red x Pink: Red (common), Pink (common), Blue (very rare), Purple (very rare), Orange (very rare), White (very rare)
Red x Blue: Blue (common), Red (common), White (rare), Pink (rare), Purple (very rare)
Red x Purple: Red (common), Pink (common), Purple (rare), Blue (very rare)
Orange
Orange x Red: Orange (common), Pink (common), Blue (very rare), Purple (very rare), Red (very rare)
Orange x Orange: Orange (common), White (rare), Pink (very rare), Blue (very rare)
Orange x White: White (rare), Orange (rare), Pink (rare)
Orange x Pink: Orange (common), Pink (common), Blue (very rare), Purple (very rare)
Orange x Blue: White (common), Orange (rare), Blue (rare)
Orange x Purple: Orange (rare), Red (rare), Pink (rare), Purple (very rare)
White
White x Red: White (rare), Red (rare), Pink (rare), Blue (very rare)
White x Orange: White (rare), Orange (rare), Pink (rare)
White x White: White (common), Blue (rare)
White x Pink: Pink (common), White (rare), Orange (rare), Red (rare)
White x Blue: White (common), Orange (rare), Blue (rare)
White x Purple: Red (common), Pink (common), Purple (very rare)
Pink
Pink x Red: Red (common), Pink (common), Blue (very rare), Purple (very rare), Orange (very rare), White (very rare)
Pink x Orange: Orange (common), Pink (common), Blue (very rare), Purple (very rare)
Pink x White: Pink (common), White (rare), Orange (rare), Red (rare)
Pink x Pink: Red (rare), Pink (rare), Orange (very rare), White (very rare), Purple (very rare)
Pink x Blue: White (rare), Blue (rare), Red (rare), Pink (rare), Purple (very rare), Orange (very rare)
Pink x Purple: Purple (rare), Red (rare), Pink (rare), Blue (rare)
Blue
Blue x Red: Blue (common), Red (common), White (rare), Pink (rare), Purple (very rare)
Blue x Orange: White (common), Orange (rare), Blue (rare)
Blue x White: White (common), Orange (rare), Blue (rare)
Blue x Pink: White (rare), Blue (rare), Red (rare), Pink (rare), Purple (very rare), Orange (very rare)
Blue x Blue: Blue (common), White (common), Red (rare), Orange (rare)
Blue x Purple: Blue (common), Pink (common), Orange (rare), Purple (very rare)
Purple
Purple x Red: Red (common), Pink (common), Purple (rare), Blue (very rare)
Purple x Orange: Orange (rare), Red (rare), Pink (rare), Purple (very rare)
Purple x White: Red (common), Pink (common), Purple (very rare)
Purple x Pink: Purple (rare), Red (rare), Pink (rare), Blue (rare)
Purple x Blue: Blue (common), Pink (common), Orange (rare), Purple (very rare)
Purple x Purple: Purple (common)
Animal Crossing: New Horizons tips 
Animal Crossing: New Horizons DIY recipes  
Animal Crossing: New Horizons fish guide 
Animal Crossing: New Horizons bugs guide 
Animal Crossing: New Horizons Nook Miles Rewards 
Animal Crossing: New Horizons iron nuggets 
Animal Crossing: New Horizons vaulting pole 
Animal Crossing: New Horizons shovel 
Animal Crossing: New Horizons ladder 
Animal Crossing: New Horizons fencing 
Animal Crossing: New Horizons magic wand 
Animal Crossing: New Horizons Isabelle 
Animal Crossing: New Horizons Resetti 
Animal Crossing: New Horizons KK Slider 
Animal Crossing: New Horizons Kicks
How to evict a resident in Animal Crossing: New Horizons 
Animal Crossing: New Horizons amiibo support explained 
Animal Crossing: New Horizons reactions 
Animal Crossing: New Horizons museum 
Animal Crossing: New Horizons tailor 
Animal Crossing: New Horizons shop 
How to improve your Animal Crossing: New Horizons island rating 
Animal Crossing: New Horizons Island Designer app 
Animal Crossing: New Horizons character customisation
Animal Crossing: New Horizons fruit
Animal Crossing: New Horizons house move
Animal Crossing: New Horizons money tree
Animal Crossing: New Horizons roof colors
How to get Nook Miles Tickets in Animal Crossing: New Horizons
Animal Crossing: New Horizons turnips
Animal Crossing: New Horizons golden tools
Animal Crossing: New Horizons rusted parts
---
More information
How to create hybrid flowers in Animal Crossing New Horizons
Being to understand how to grow a full set of Animal Crossing New Horizons flower hybrids is a mix of hard work and luck. You'll have to plant flowers carefully, water them daily and generally tend to them daily if you want to breed all the hybrid flowers in Animal Crossing New Horizons. 
It's worth it though as the all the color variations, or hybrids, you can grow can really add to your island. Both in terms of looks and customisation as much as bragging rights when people see what you've got on display. There are also new breeds that haven't featured in the series before too, so it makes the process even more exciting for players old and new to discover. 
Coming up we have all the details for the Animal Crossing New Horizons flower hybrids for you to unlock. As well as how to create hybrid flowers, and the best planting practices to follow for success, so check it out.
Flower types
How to get all Animal Crossing New Horizons flowers
(Image credit: Nintendo)
Like with the Animal Crossing: New Horizons fruit, you will have a certain number of flowers native to your island. On mine, for example, I grew pansies, hyacinths and windflowers natively, but had to travel to friends' islands to gather the rest. You can get lucky using Nook Miles Tickets trips, but I've not had any luck with that despite all the money I've spent on tickets.
Here's the full list of Animal Crossing: New Horizons flowers available:
Cosmos
Hyacinths
Lilies
Mums
Pansies
Roses
Tulips
Windflowers
Hybrid flowers
How to create Animal Crossing New Horizons hybrid flowers
Color variations
Cosmos
Hyacinths
Lillies
Mums
Pansies
Roses
Tulips
Windflowers
(Image credit: Nintendo)
Red
Red x Red: Red (common), Blue (rare), Purple (rare), Pink (rare)
Red x Orange: Orange (common), Pink (common), Blue (very rare), Purple (very rare), Red (very rare)
Red x White: White (rare), Red (rare), Pink (rare), Blue (very rare)
Red x Pink: Red (common), Pink (common), Blue (very rare), Purple (very rare), Orange (very rare), White (very rare)
Red x Blue: Blue (common), Red (common), White (rare), Pink (rare), Purple (very rare)
Red x Purple: Red (common), Pink (common), Purple (rare), Blue (very rare)
Orange
Orange x Red: Orange (common), Pink (common), Blue (very rare), Purple (very rare), Red (very rare)
Orange x Orange: Orange (common), White (rare), Pink (very rare), Blue (very rare)
Orange x White: White (rare), Orange (rare), Pink (rare)
Orange x Pink: Orange (common), Pink (common), Blue (very rare), Purple (very rare)
Orange x Blue: White (common), Orange (rare), Blue (rare)
Orange x Purple: Orange (rare), Red (rare), Pink (rare), Purple (very rare)
White
White x Red: White (rare), Red (rare), Pink (rare), Blue (very rare)
White x Orange: White (rare), Orange (rare), Pink (rare)
White x White: White (common), Blue (rare)
White x Pink: Pink (common), White (rare), Orange (rare), Red (rare)
White x Blue: White (common), Orange (rare), Blue (rare)
White x Purple: Red (common), Pink (common), Purple (very rare)
Pink
Pink x Red: Red (common), Pink (common), Blue (very rare), Purple (very rare), Orange (very rare), White (very rare)
Pink x Orange: Orange (common), Pink (common), Blue (very rare), Purple (very rare)
Pink x White: Pink (common), White (rare), Orange (rare), Red (rare)
Pink x Pink: Red (rare), Pink (rare), Orange (very rare), White (very rare), Purple (very rare)
Pink x Blue: White (rare), Blue (rare), Red (rare), Pink (rare), Purple (very rare), Orange (very rare)
Pink x Purple: Purple (rare), Red (rare), Pink (rare), Blue (rare)
Blue
Blue x Red: Blue (common), Red (common), White (rare), Pink (rare), Purple (very rare)
Blue x Orange: White (common), Orange (rare), Blue (rare)
Blue x White: White (common), Orange (rare), Blue (rare)
Blue x Pink: White (rare), Blue (rare), Red (rare), Pink (rare), Purple (very rare), Orange (very rare)
Blue x Blue: Blue (common), White (common), Red (rare), Orange (rare)
Blue x Purple: Blue (common), Pink (common), Orange (rare), Purple (very rare)
Purple
Purple x Red: Red (common), Pink (common), Purple (rare), Blue (very rare)
Purple x Orange: Orange (rare), Red (rare), Pink (rare), Purple (very rare)
Purple x White: Red (common), Pink (common), Purple (very rare)
Purple x Pink: Purple (rare), Red (rare), Pink (rare), Blue (rare)
Purple x Blue: Blue (common), Pink (common), Orange (rare), Purple (very rare)
Purple x Purple: Purple (common)
Animal Crossing: New Horizons tips 
Animal Crossing: New Horizons DIY recipes  
Animal Crossing: New Horizons fish guide 
Animal Crossing: New Horizons bugs guide 
Animal Crossing: New Horizons Nook Miles Rewards 
Animal Crossing: New Horizons iron nuggets 
Animal Crossing: New Horizons vaulting pole 
Animal Crossing: New Horizons shovel 
Animal Crossing: New Horizons ladder 
Animal Crossing: New Horizons fencing 
Animal Crossing: New Horizons magic wand 
Animal Crossing: New Horizons Isabelle 
Animal Crossing: New Horizons Resetti 
Animal Crossing: New Horizons KK Slider 
Animal Crossing: New Horizons Kicks
How to evict a resident in Animal Crossing: New Horizons 
Animal Crossing: New Horizons amiibo support explained 
Animal Crossing: New Horizons reactions 
Animal Crossing: New Horizons museum 
Animal Crossing: New Horizons tailor 
Animal Crossing: New Horizons shop 
How to improve your Animal Crossing: New Horizons island rating 
Animal Crossing: New Horizons Island Designer app 
Animal Crossing: New Horizons character customisation
Animal Crossing: New Horizons fruit
Animal Crossing: New Horizons house move
Animal Crossing: New Horizons money tree
Animal Crossing: New Horizons roof colors
How to get Nook Miles Tickets in Animal Crossing: New Horizons
Animal Crossing: New Horizons turnips
Animal Crossing: New Horizons golden tools
Animal Crossing: New Horizons rusted parts
#create #hybrid #flowers #Animal #Crossing #Horizons
How to create hybrid flowers in Animal Crossing New Horizons
Being to understand how to grow a full set of Animal Crossing New Horizons flower hybrids is a mix of hard work and luck. You'll have to plant flowers carefully, water them daily and generally tend to them daily if you want to breed all the hybrid flowers in Animal Crossing New Horizons. 
It's worth it though as the all the color variations, or hybrids, you can grow can really add to your island. Both in terms of looks and customisation as much as bragging rights when people see what you've got on display. There are also new breeds that haven't featured in the series before too, so it makes the process even more exciting for players old and new to discover. 
Coming up we have all the details for the Animal Crossing New Horizons flower hybrids for you to unlock. As well as how to create hybrid flowers, and the best planting practices to follow for success, so check it out.
Flower types
How to get all Animal Crossing New Horizons flowers
(Image credit: Nintendo)
Like with the Animal Crossing: New Horizons fruit, you will have a certain number of flowers native to your island. On mine, for example, I grew pansies, hyacinths and windflowers natively, but had to travel to friends' islands to gather the rest. You can get lucky using Nook Miles Tickets trips, but I've not had any luck with that despite all the money I've spent on tickets.
Here's the full list of Animal Crossing: New Horizons flowers available:
Cosmos
Hyacinths
Lilies
Mums
Pansies
Roses
Tulips
Windflowers
Hybrid flowers
How to create Animal Crossing New Horizons hybrid flowers
Color variations
Cosmos
Hyacinths
Lillies
Mums
Pansies
Roses
Tulips
Windflowers
(Image credit: Nintendo)
Red
Red x Red: Red (common), Blue (rare), Purple (rare), Pink (rare)
Red x Orange: Orange (common), Pink (common), Blue (very rare), Purple (very rare), Red (very rare)
Red x White: White (rare), Red (rare), Pink (rare), Blue (very rare)
Red x Pink: Red (common), Pink (common), Blue (very rare), Purple (very rare), Orange (very rare), White (very rare)
Red x Blue: Blue (common), Red (common), White (rare), Pink (rare), Purple (very rare)
Red x Purple: Red (common), Pink (common), Purple (rare), Blue (very rare)
Orange
Orange x Red: Orange (common), Pink (common), Blue (very rare), Purple (very rare), Red (very rare)
Orange x Orange: Orange (common), White (rare), Pink (very rare), Blue (very rare)
Orange x White: White (rare), Orange (rare), Pink (rare)
Orange x Pink: Orange (common), Pink (common), Blue (very rare), Purple (very rare)
Orange x Blue: White (common), Orange (rare), Blue (rare)
Orange x Purple: Orange (rare), Red (rare), Pink (rare), Purple (very rare)
White
White x Red: White (rare), Red (rare), Pink (rare), Blue (very rare)
White x Orange: White (rare), Orange (rare), Pink (rare)
White x White: White (common), Blue (rare)
White x Pink: Pink (common), White (rare), Orange (rare), Red (rare)
White x Blue: White (common), Orange (rare), Blue (rare)
White x Purple: Red (common), Pink (common), Purple (very rare)
Pink
Pink x Red: Red (common), Pink (common), Blue (very rare), Purple (very rare), Orange (very rare), White (very rare)
Pink x Orange: Orange (common), Pink (common), Blue (very rare), Purple (very rare)
Pink x White: Pink (common), White (rare), Orange (rare), Red (rare)
Pink x Pink: Red (rare), Pink (rare), Orange (very rare), White (very rare), Purple (very rare)
Pink x Blue: White (rare), Blue (rare), Red (rare), Pink (rare), Purple (very rare), Orange (very rare)
Pink x Purple: Purple (rare), Red (rare), Pink (rare), Blue (rare)
Blue
Blue x Red: Blue (common), Red (common), White (rare), Pink (rare), Purple (very rare)
Blue x Orange: White (common), Orange (rare), Blue (rare)
Blue x White: White (common), Orange (rare), Blue (rare)
Blue x Pink: White (rare), Blue (rare), Red (rare), Pink (rare), Purple (very rare), Orange (very rare)
Blue x Blue: Blue (common), White (common), Red (rare), Orange (rare)
Blue x Purple: Blue (common), Pink (common), Orange (rare), Purple (very rare)
Purple
Purple x Red: Red (common), Pink (common), Purple (rare), Blue (very rare)
Purple x Orange: Orange (rare), Red (rare), Pink (rare), Purple (very rare)
Purple x White: Red (common), Pink (common), Purple (very rare)
Purple x Pink: Purple (rare), Red (rare), Pink (rare), Blue (rare)
Purple x Blue: Blue (common), Pink (common), Orange (rare), Purple (very rare)
Purple x Purple: Purple (common)
Animal Crossing: New Horizons tips 
Animal Crossing: New Horizons DIY recipes  
Animal Crossing: New Horizons fish guide 
Animal Crossing: New Horizons bugs guide 
Animal Crossing: New Horizons Nook Miles Rewards 
Animal Crossing: New Horizons iron nuggets 
Animal Crossing: New Horizons vaulting pole 
Animal Crossing: New Horizons shovel 
Animal Crossing: New Horizons ladder 
Animal Crossing: New Horizons fencing 
Animal Crossing: New Horizons magic wand 
Animal Crossing: New Horizons Isabelle 
Animal Crossing: New Horizons Resetti 
Animal Crossing: New Horizons KK Slider 
Animal Crossing: New Horizons Kicks
How to evict a resident in Animal Crossing: New Horizons 
Animal Crossing: New Horizons amiibo support explained 
Animal Crossing: New Horizons reactions 
Animal Crossing: New Horizons museum 
Animal Crossing: New Horizons tailor 
Animal Crossing: New Horizons shop 
How to improve your Animal Crossing: New Horizons island rating 
Animal Crossing: New Horizons Island Designer app 
Animal Crossing: New Horizons character customisation
Animal Crossing: New Horizons fruit
Animal Crossing: New Horizons house move
Animal Crossing: New Horizons money tree
Animal Crossing: New Horizons roof colors
How to get Nook Miles Tickets in Animal Crossing: New Horizons
Animal Crossing: New Horizons turnips
Animal Crossing: New Horizons golden tools
Animal Crossing: New Horizons rusted parts
#create #hybrid #flowers #Animal #Crossing #Horizons
---
Synthetic: Vik News