Guides
How to level up fast in Fortnite, earn XP, and get those rewards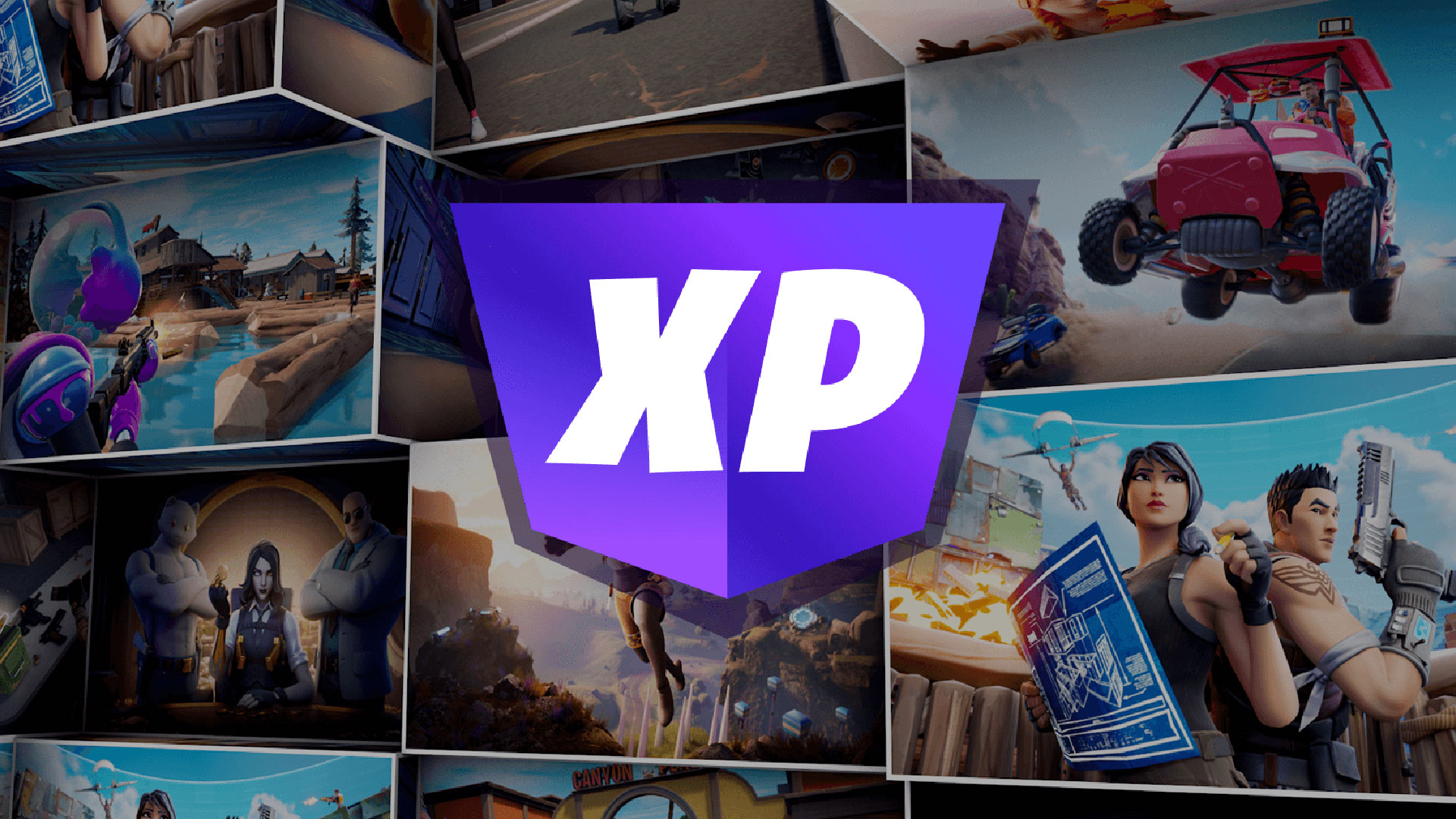 Knowing how to level up quickly in Fortnite will unlock that Battle Pass page much faster, which in turn will give you access to more rewards that you can use your hard-earned Battle Stars for. To be clear, there are no specific cheats or glitches that you can use to increase your rank in Fortnite, but there are a few ways you can maximize your in-game XP by using it in 100% legal ways. . To access all the rewards Battle Pass has to offer, here's everything you need to know to level up quickly in Fortnite.
Level up quickly in Fortnite Creative Mode to get free XP.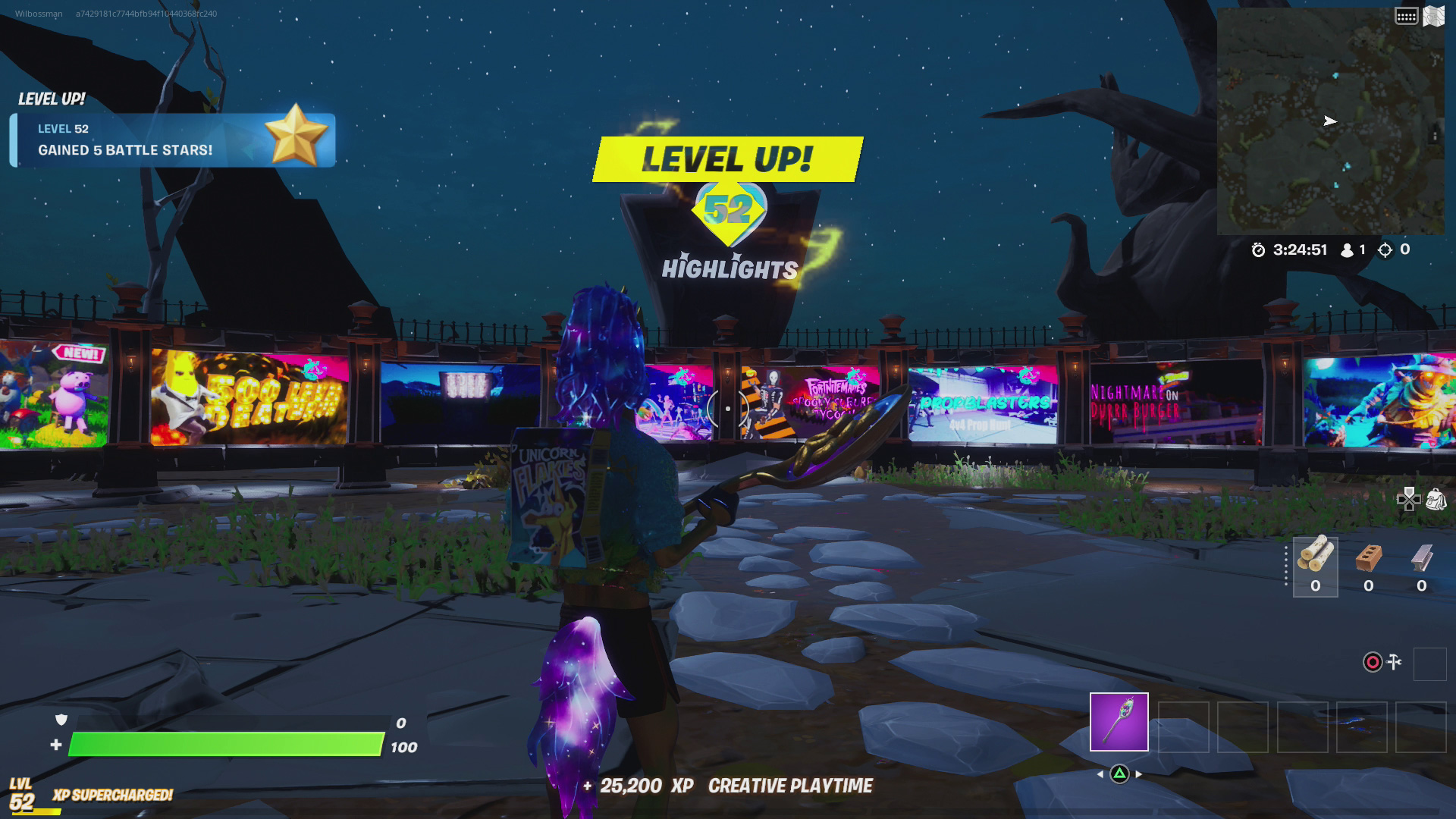 (Image credit: Epic Games)
Surprisingly, you can get free XP just by spending time in creative mode, which is one of the best ways to level up quickly in Fortnite since you don't actually need to do anything to earn it. For every 15 minutes you spend in this mode, you will receive a creative playtime reward (currently 12,000 XP) and you can collect up to 5 bonuses per day. This bonus resets at the same time as the daily quest. Just switch to creative mode and stand in the lobby and watch the timers expire from 3:55 to 3:40, 3:25, 3:10, 2:55 and 2:40. You should level up at least once and get enough XP to come back the next day and try again.
Enjoy creative experiences with XP rewards activated.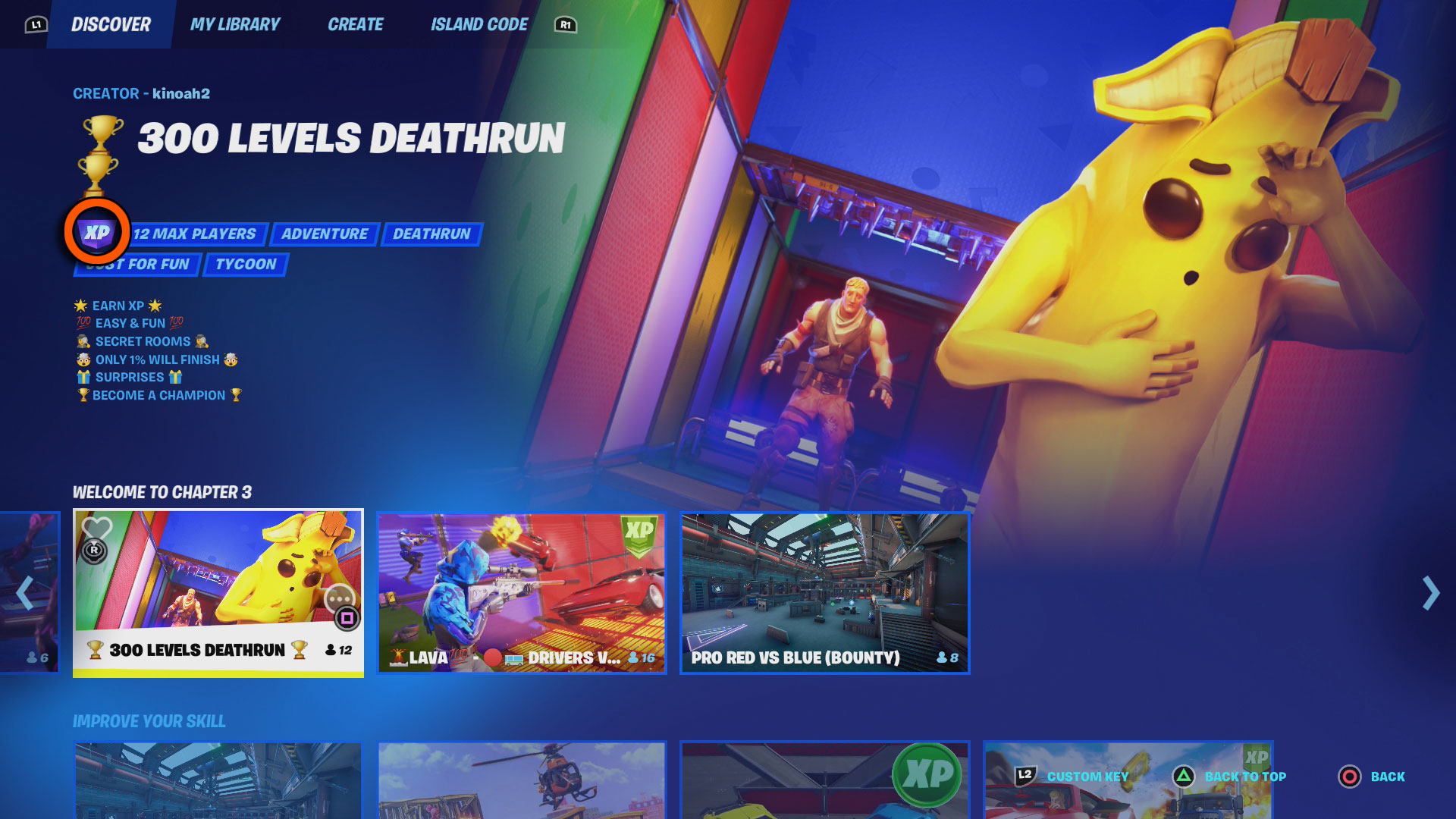 (Image credit: Epic Games)
After the recent update, Creative Mode adds another way to level up quickly in Fortnite. This is because some experiences now have a reward device active. You can confirm this by the XP logo highlighted in the image above, which means that you earn XP by completing certain achievements within that map, game, or experience. However, it's not always clear what you need to do in some levels to receive these prizes, and some offer significantly greater rewards than others, so shop around to find the one that suits you best.
Check out these quests and get cumulative rewards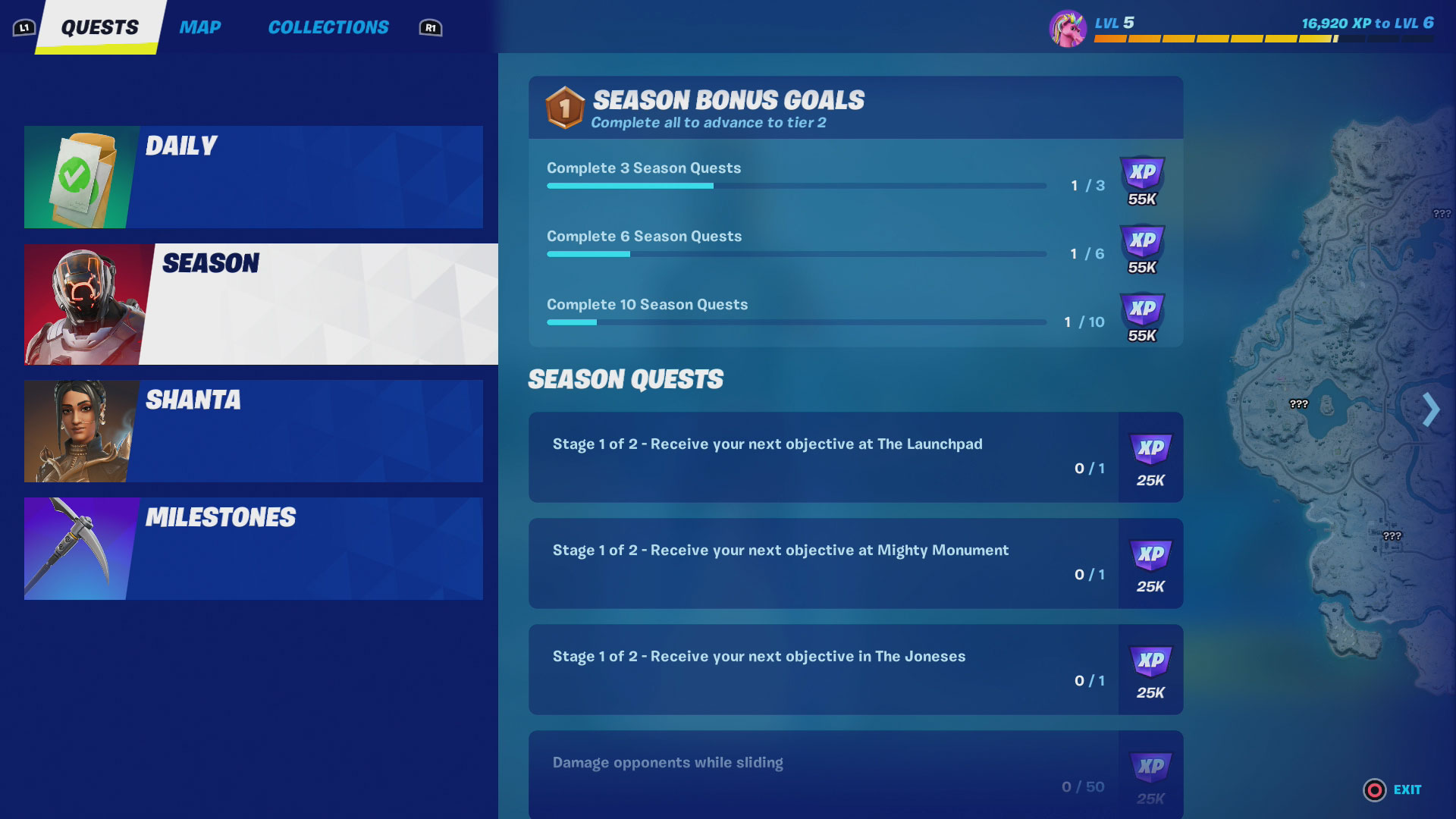 Celebrate with friends and share your daily quests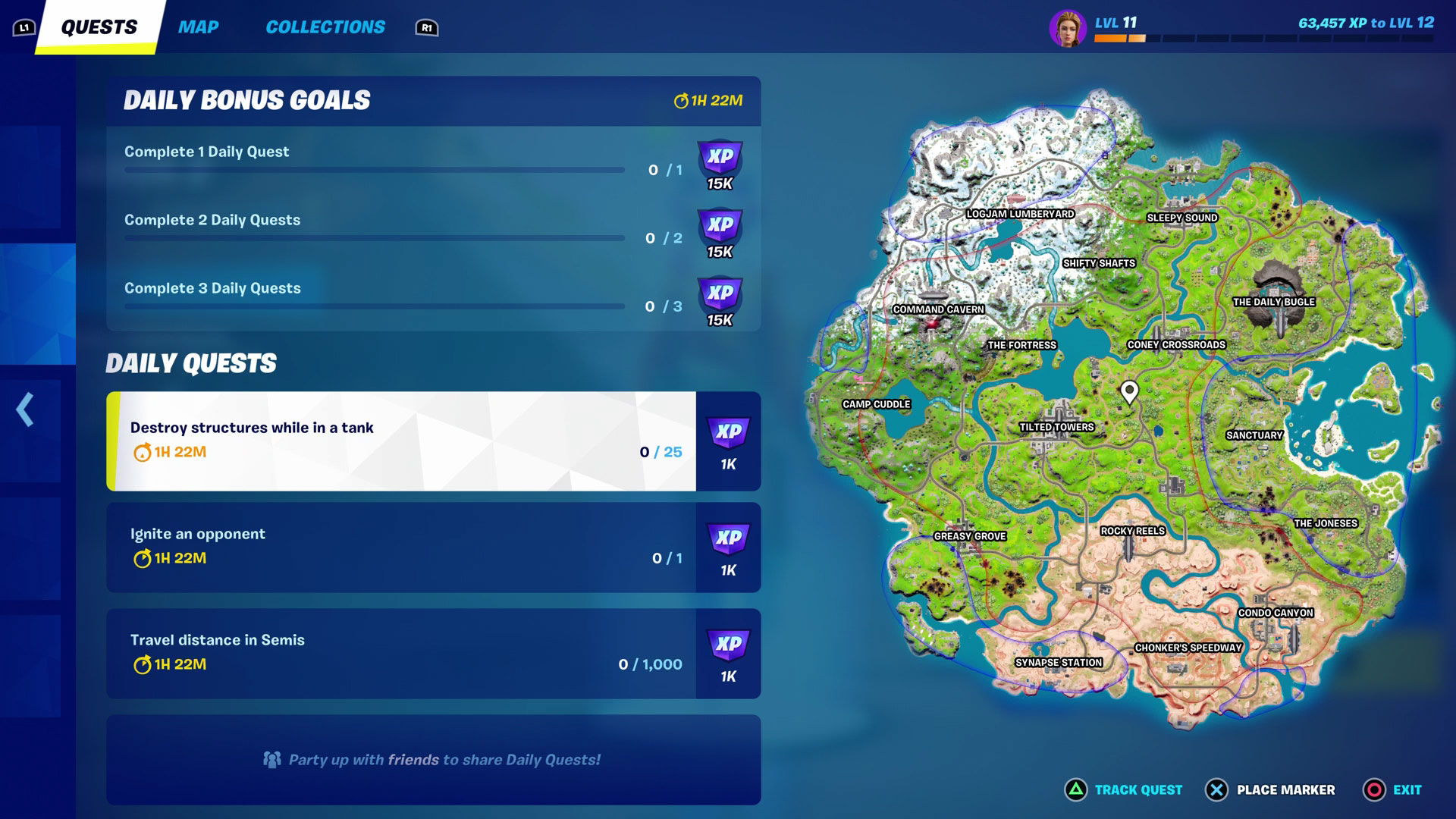 play save world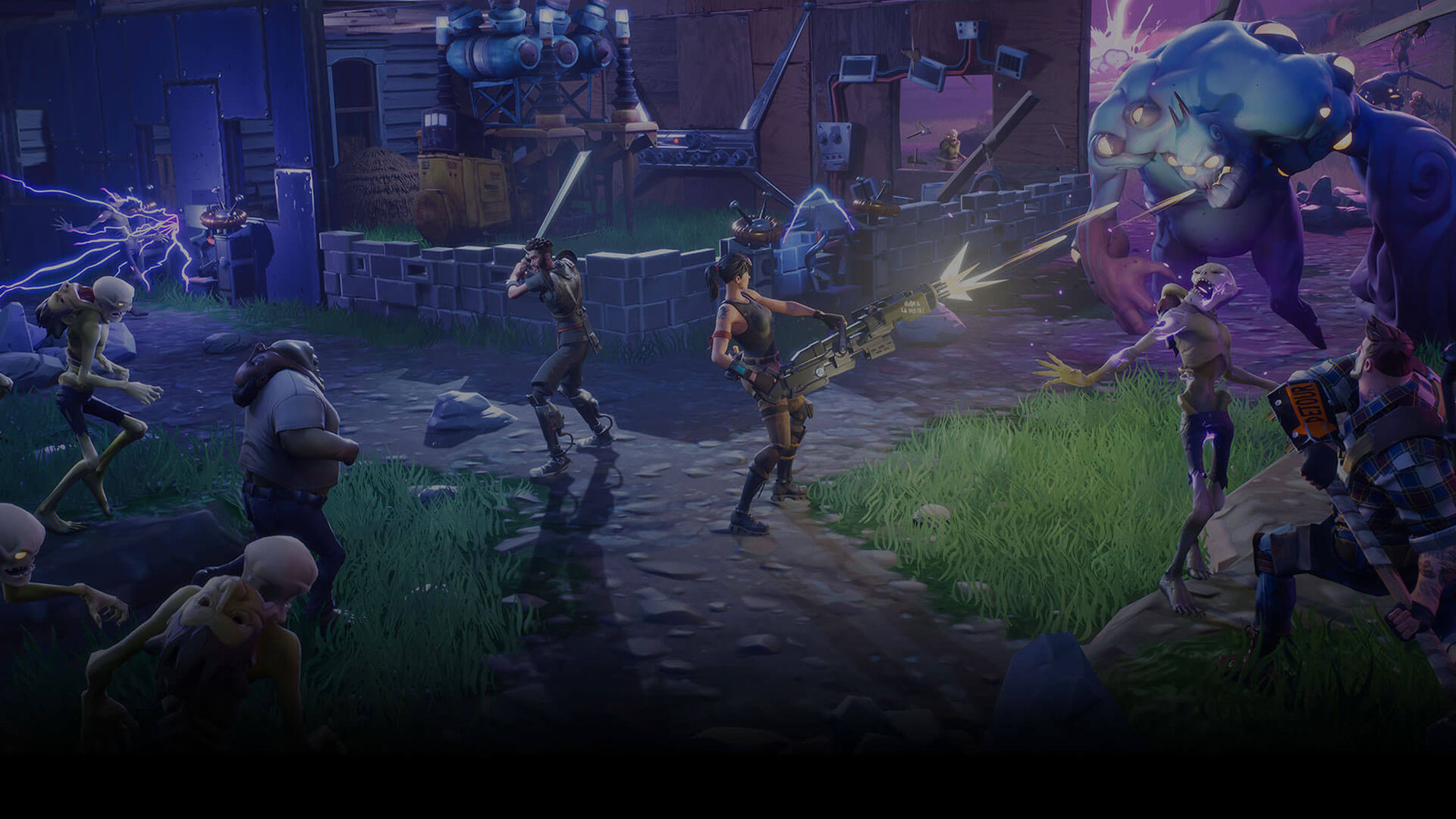 (Image credit: Epic Games)
Not everyone has access to the Save World campaign, but if you do, it's another great way to level up quickly in Fortnite. As you earn mission badges such as Explore, Build, and Combat, and complete bonus mission objectives, you earn XP that counts toward your Battle Pass progress.
fortnite patch notes | Fortnite Tips | fortnite creative code | Fortnite 2FA | How to enable cross-platform Fortnite matches | Fortnite Starter Pack | Fortnite Map | fortnite new weapon | Fortnite Victory Crown | Fortnite Building Removal | How to sprint in Fortnite | fortnite tank | Fortnite Prowler | Fortnite device uplinks | Fortnite Omni Chips | fortnite season 3
---
More information
How to level up fast in Fortnite, earn XP, and get those rewards
If you know how to level up fast in Fortnite then you'll start unlocking those Battle Pass pages a lot quicker, which in turn gives you access to more rewards to spend your hard-earned Battle Stars on. To be clear, there aren't any specific cheats or glitches you can utilize in Fortnite to rocket yourself up through the ranks, but there are several methods that provide 100% legitimate ways to max out the XP you're earning in the game. If you're set to access all of the rewards the Battle Pass has to offer, then here's everything you need to know about how to level up fast in Fortnite.
Level up fast in Fortnite using Creative mode to farm free XP
(Image credit: Epic Games)
Amazingly, you get free XP just for spending time in Creative mode, and this is one of the best methods for how to level up fast in Fortnite as you don't actually have to do anything to earn it. For every 15 minutes you spend in that mode you'll receive a Creative Playtime reward, which is currently 12,000 XP, and you can collect up to five of these bonuses every day – resetting at the same time as the Daily Quests. All you need to do is enter Creative mode, stand in the lobby and watch as the timer ticks down from 3:55 to 3:40, 3:25, 3:10, 2:55, and 2:40, after which you should have received enough XP to level up at least once, then come back the next day and do it again.
Play Creative experiences with XP Accolades enabled
(Image credit: Epic Games)
Following recent updates, Creative mode adds another method to help you level up fast in Fortnite, as some of the experiences now have the Accolade Device enabled. You can identify these as they have the XP logo against them, which we've highlighted in the above image, and this means when you achieve certain feats within that map, game, or experience you'll earn XP. However, it's not always clear what you need to do in some levels to earn those Accolades, and some offer much greater rewards than others, so search around to find one that works well for you.
Tick off those Quests and earn cumulative rewards
Party up with friends and share Daily Quests
Play Save The World
(Image credit: Epic Games)
Not everyone has access to the Save the World campaign, but if you do then this is another great way to level up fast in Fortnite. By earning mission badges for things such as exploring, building, and combat, as well as completing bonus mission objectives, you'll earn XP that counts towards your Battle Pass progress.
Fortnite patch notes | Fortnite tips | Fortnite Creative codes | Fortnite 2FA | How to enable cross platform Fortnite matches | Fortnite Starter Pack | Fortnite map | Fortnite new weapons | Fortnite Victory Crown | Fortnite building removed | How to sprint in Fortnite | Fortnite Tanks | Fortnite Prowler | Fortnite Device Uplink | Fortnite Omni Chips | Fortnite Season 3
#level #fast #Fortnite #earn #rewards
How to level up fast in Fortnite, earn XP, and get those rewards
If you know how to level up fast in Fortnite then you'll start unlocking those Battle Pass pages a lot quicker, which in turn gives you access to more rewards to spend your hard-earned Battle Stars on. To be clear, there aren't any specific cheats or glitches you can utilize in Fortnite to rocket yourself up through the ranks, but there are several methods that provide 100% legitimate ways to max out the XP you're earning in the game. If you're set to access all of the rewards the Battle Pass has to offer, then here's everything you need to know about how to level up fast in Fortnite.
Level up fast in Fortnite using Creative mode to farm free XP
(Image credit: Epic Games)
Amazingly, you get free XP just for spending time in Creative mode, and this is one of the best methods for how to level up fast in Fortnite as you don't actually have to do anything to earn it. For every 15 minutes you spend in that mode you'll receive a Creative Playtime reward, which is currently 12,000 XP, and you can collect up to five of these bonuses every day – resetting at the same time as the Daily Quests. All you need to do is enter Creative mode, stand in the lobby and watch as the timer ticks down from 3:55 to 3:40, 3:25, 3:10, 2:55, and 2:40, after which you should have received enough XP to level up at least once, then come back the next day and do it again.
Play Creative experiences with XP Accolades enabled
(Image credit: Epic Games)
Following recent updates, Creative mode adds another method to help you level up fast in Fortnite, as some of the experiences now have the Accolade Device enabled. You can identify these as they have the XP logo against them, which we've highlighted in the above image, and this means when you achieve certain feats within that map, game, or experience you'll earn XP. However, it's not always clear what you need to do in some levels to earn those Accolades, and some offer much greater rewards than others, so search around to find one that works well for you.
Tick off those Quests and earn cumulative rewards
Party up with friends and share Daily Quests
Play Save The World
(Image credit: Epic Games)
Not everyone has access to the Save the World campaign, but if you do then this is another great way to level up fast in Fortnite. By earning mission badges for things such as exploring, building, and combat, as well as completing bonus mission objectives, you'll earn XP that counts towards your Battle Pass progress.
Fortnite patch notes | Fortnite tips | Fortnite Creative codes | Fortnite 2FA | How to enable cross platform Fortnite matches | Fortnite Starter Pack | Fortnite map | Fortnite new weapons | Fortnite Victory Crown | Fortnite building removed | How to sprint in Fortnite | Fortnite Tanks | Fortnite Prowler | Fortnite Device Uplink | Fortnite Omni Chips | Fortnite Season 3
#level #fast #Fortnite #earn #rewards
---
Synthetic: Vik News