Entertainment
Jason Momoa's Villain Performs Motorbike Stunt in Fast 10 Set Photos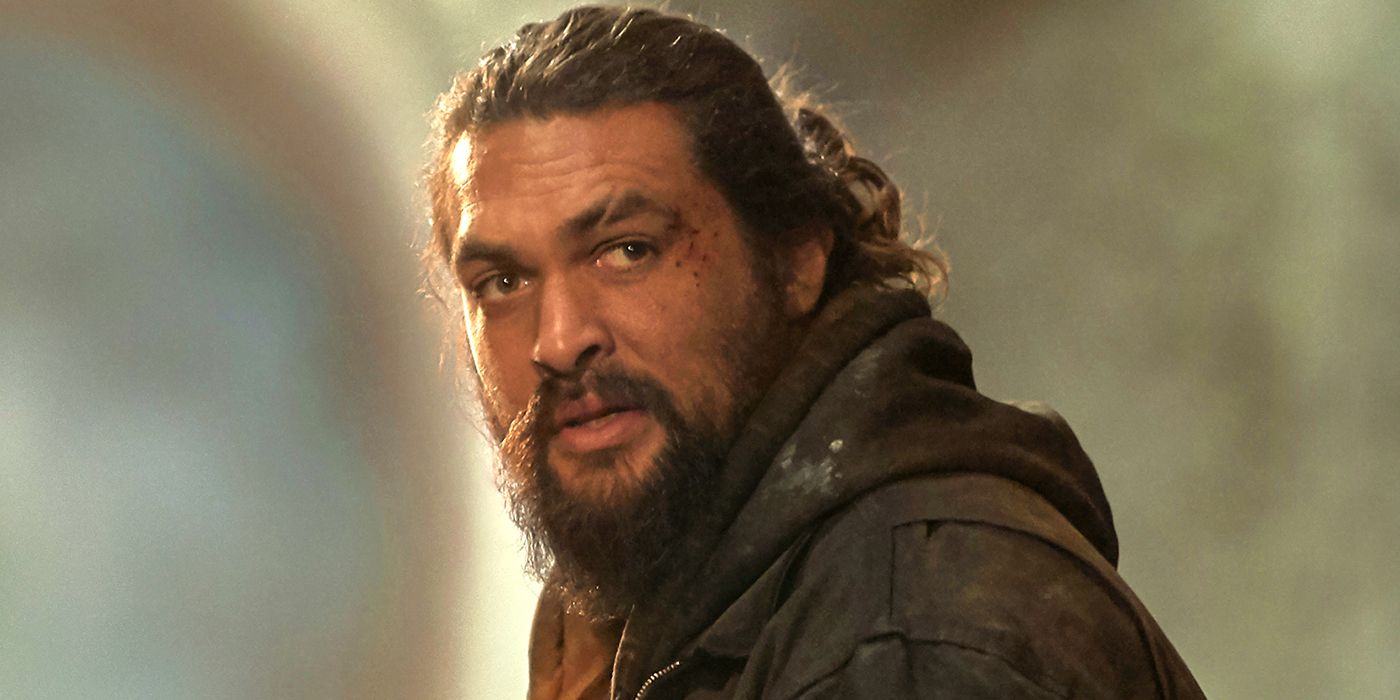 Jason Momoa's undisclosed villain is seen performing a motorbike stunt in new Fast 10 set photos as production gets underway on the film. The Aquaman star is one of multiple actors making their franchise debuts in the upcoming Fast and Furious sequel alongside The Suicide Squad breakout star Daniela Melchior and Captain Marvel actress Brie Larson. Fast 10 will once again be led by franchise vet and producer Vin Diesel, Michelle Rodriguez, Tyrese Gibson, Ludacris, Jordana Brewster, Nathalie Emmanuel, Sung Kang, Michael Rooker, Charlize Theron and Cardi B.
Plot details for Fast 10 are currently unknown, though it is expected to pick up the threads from last year's F9: The Fast Saga in which Theron's Cipher once again escaped capture by the central group of characters. The film will also mark the first of a two-film finale for the mainline Fast and Furious franchise while development continues on the long-gestating Hobbs & Shaw sequel, a female-led spinoff and a Theron-starring spinoff. Fast 10 saw some recent hiccups in its development following the departure of co-writer and original director Justin Lin due to creative differences, though the film is back on track and now audiences are getting an exciting glimpse at a key element of the sequel.
As production properly kicks off on the film, JustJared has shared new Fast 10 set photos. The images reveal the first look at Jason Momoa's undisclosed villain in the film as he performs a motorbike stunt on the London set. Check out the collection of set photos below:
It's the first look at #FastAndFurious10 with Jason Momoa https://t.co/IxPqD6yheD

— JustJared.com (@JustJared) May 6, 2022
Click here to see the original post
The announcement of Momoa's casting as Fast 10's villain sparked much anticipation amongst fans of the franchise and the star himself, believing him to be a physically imposing new force for the films after F9: The Fast Saga introduced John Cena as Dom and Mia's long-lost brother Jakob Toretto. Momoa has since further fueled excitement for his upcoming arrival, teasing his undisclosed villain as both a "flamboyant bad boy" with a "little panache" as well as a "misunderstood" character. Photos have also confirmed that Momoa's villain will be sharing screen time with Theron's Cipher, which the Aquaman star has expressed much excitement for.
The new Fast 10 set photos may not show off much of the flamboyant nature Momoa has alluded to for his villain, but it does nonetheless mark an interesting look at his character's motorbike skills as he rides up a staircase. The set photos also help assure audiences that production is running smoothly once again after Lin initially departed due to a disagreement with Diesel's on-set behavior and was in turn replaced by The Incredible Hulk's Louis Leterrier. With filming still in the early stages, audiences will have to keep their eyes peeled for more looks at Momoa's villain in the lead up to Fast 10's May 2023 release.
Source: JustJared/Twitter
---
More information
Jason Momoa's Villain Performs Motorbike Stunt in Fast 10 Set Photos
Jason Momoa's undisclosed villain is seen performing a motorbike stunt in new Fast 10 set photos as production gets underway on the film. The Aquaman star is one of multiple actors making their franchise debuts in the upcoming Fast and Furious sequel alongside The Suicide Squad breakout star Daniela Melchior and Captain Marvel actress Brie Larson. Fast 10 will once again be led by franchise vet and producer Vin Diesel, Michelle Rodriguez, Tyrese Gibson, Ludacris, Jordana Brewster, Nathalie Emmanuel, Sung Kang, Michael Rooker, Charlize Theron and Cardi B.
Plot details for Fast 10 are currently unknown, though it is expected to pick up the threads from last year's F9: The Fast Saga in which Theron's Cipher once again escaped capture by the central group of characters. The film will also mark the first of a two-film finale for the mainline Fast and Furious franchise while development continues on the long-gestating Hobbs & Shaw sequel, a female-led spinoff and a Theron-starring spinoff. Fast 10 saw some recent hiccups in its development following the departure of co-writer and original director Justin Lin due to creative differences, though the film is back on track and now audiences are getting an exciting glimpse at a key element of the sequel.
As production properly kicks off on the film, JustJared has shared new Fast 10 set photos. The images reveal the first look at Jason Momoa's undisclosed villain in the film as he performs a motorbike stunt on the London set. Check out the collection of set photos below:
It's the first look at #FastAndFurious10 with Jason Momoa https://t.co/IxPqD6yheD
— JustJared.com (@JustJared) May 6, 2022
Click here to see the original post
The announcement of Momoa's casting as Fast 10's villain sparked much anticipation amongst fans of the franchise and the star himself, believing him to be a physically imposing new force for the films after F9: The Fast Saga introduced John Cena as Dom and Mia's long-lost brother Jakob Toretto. Momoa has since further fueled excitement for his upcoming arrival, teasing his undisclosed villain as both a "flamboyant bad boy" with a "little panache" as well as a "misunderstood" character. Photos have also confirmed that Momoa's villain will be sharing screen time with Theron's Cipher, which the Aquaman star has expressed much excitement for.
The new Fast 10 set photos may not show off much of the flamboyant nature Momoa has alluded to for his villain, but it does nonetheless mark an interesting look at his character's motorbike skills as he rides up a staircase. The set photos also help assure audiences that production is running smoothly once again after Lin initially departed due to a disagreement with Diesel's on-set behavior and was in turn replaced by The Incredible Hulk's Louis Leterrier. With filming still in the early stages, audiences will have to keep their eyes peeled for more looks at Momoa's villain in the lead up to Fast 10's May 2023 release.
Source: JustJared/Twitter
#Jason #Momoas #Villain #Performs #Motorbike #Stunt #Fast #Set #Photos
Jason Momoa's Villain Performs Motorbike Stunt in Fast 10 Set Photos
Jason Momoa's undisclosed villain is seen performing a motorbike stunt in new Fast 10 set photos as production gets underway on the film. The Aquaman star is one of multiple actors making their franchise debuts in the upcoming Fast and Furious sequel alongside The Suicide Squad breakout star Daniela Melchior and Captain Marvel actress Brie Larson. Fast 10 will once again be led by franchise vet and producer Vin Diesel, Michelle Rodriguez, Tyrese Gibson, Ludacris, Jordana Brewster, Nathalie Emmanuel, Sung Kang, Michael Rooker, Charlize Theron and Cardi B.
Plot details for Fast 10 are currently unknown, though it is expected to pick up the threads from last year's F9: The Fast Saga in which Theron's Cipher once again escaped capture by the central group of characters. The film will also mark the first of a two-film finale for the mainline Fast and Furious franchise while development continues on the long-gestating Hobbs & Shaw sequel, a female-led spinoff and a Theron-starring spinoff. Fast 10 saw some recent hiccups in its development following the departure of co-writer and original director Justin Lin due to creative differences, though the film is back on track and now audiences are getting an exciting glimpse at a key element of the sequel.
As production properly kicks off on the film, JustJared has shared new Fast 10 set photos. The images reveal the first look at Jason Momoa's undisclosed villain in the film as he performs a motorbike stunt on the London set. Check out the collection of set photos below:
It's the first look at #FastAndFurious10 with Jason Momoa https://t.co/IxPqD6yheD
— JustJared.com (@JustJared) May 6, 2022
Click here to see the original post
The announcement of Momoa's casting as Fast 10's villain sparked much anticipation amongst fans of the franchise and the star himself, believing him to be a physically imposing new force for the films after F9: The Fast Saga introduced John Cena as Dom and Mia's long-lost brother Jakob Toretto. Momoa has since further fueled excitement for his upcoming arrival, teasing his undisclosed villain as both a "flamboyant bad boy" with a "little panache" as well as a "misunderstood" character. Photos have also confirmed that Momoa's villain will be sharing screen time with Theron's Cipher, which the Aquaman star has expressed much excitement for.
The new Fast 10 set photos may not show off much of the flamboyant nature Momoa has alluded to for his villain, but it does nonetheless mark an interesting look at his character's motorbike skills as he rides up a staircase. The set photos also help assure audiences that production is running smoothly once again after Lin initially departed due to a disagreement with Diesel's on-set behavior and was in turn replaced by The Incredible Hulk's Louis Leterrier. With filming still in the early stages, audiences will have to keep their eyes peeled for more looks at Momoa's villain in the lead up to Fast 10's May 2023 release.
Source: JustJared/Twitter
#Jason #Momoas #Villain #Performs #Motorbike #Stunt #Fast #Set #Photos
---
Synthetic: Vik News