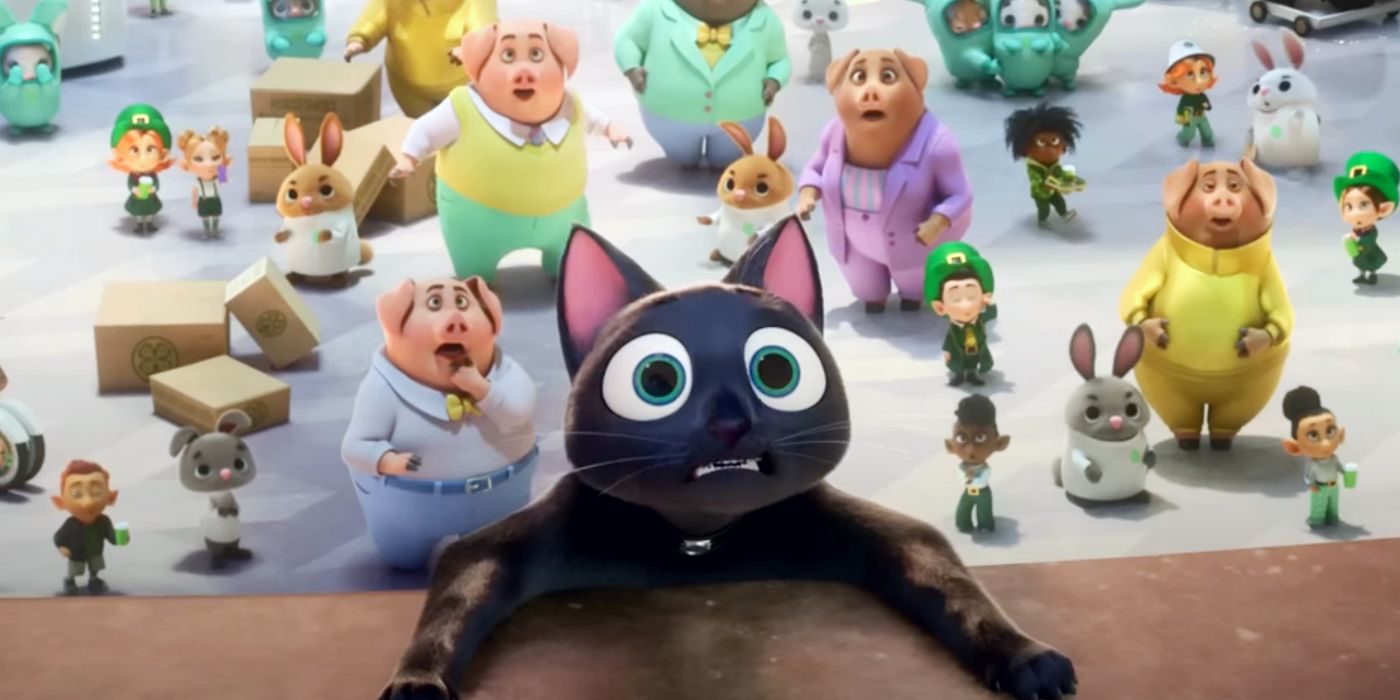 Skydance Animation releases a brand-new trailer for their first-ever animated feature film, Luck, which is set to debut on Apple TV+ this August. Starring Simon Pegg in the lead role, Luck revolves around Sam Greenfield, the unluckiest girl in the world. When she stumbles upon the never-before-seen Land of Luck, she must team up with magical creatures to turn her luck around and defeat a force more powerful than luck itself. Pegg is joined by a cast that includes Jane Fonda, Whoopi Goldberg, Flula Borg, Lil Rel Howery, Colin O'Donoghue, John Ratzenberger, Adelynn Spoon, and Eva Noblezada, who plays Sam.
Now, Apple TV has dropped a brand-new trailer for Luck, putting the spotlight on Bob, a black cat played by Pegg, as he guides viewers through the land of good luck and bad luck. The trailer follows Bob on a tour of the Land of Luck, where humans are forbidden to visit. The teaser also features some animals hard at work in the "good luck" and "bad luck" departments and how they impact the fortunes of humans in the outside world. However, they receive an unexpected and unwelcome surprise when Sam unexpectedly steps inside. Check out the trailer below:
Luck marks Apple's first animated film as part of their multiple-movie deal with Skydance Animation. The film also happens to be one of several animated films to come out in 2022 that center around a group of animals, including the well-received The Bad Guys and the upcoming DC League of Super-Pets, to name a few. But given the studio giant's recent success in the animation department, with films like 2020's Oscar-nominated pic Wolfwalkers, coupled with the extremely talented voice cast featured onscreen, audiences can expect a uniquely entertaining ride when they tune in to Luck on Apple TV+ on August 5th.
Source: Apple TV
---
More information
Simon Pegg Is An Unlucky Cat In New Luck Trailer
Skydance Animation releases a brand-new trailer for their first-ever animated feature film, Luck, which is set to debut on Apple TV+ this August. Starring Simon Pegg in the lead role, Luck revolves around Sam Greenfield, the unluckiest girl in the world. When she stumbles upon the never-before-seen Land of Luck, she must team up with magical creatures to turn her luck around and defeat a force more powerful than luck itself. Pegg is joined by a cast that includes Jane Fonda, Whoopi Goldberg, Flula Borg, Lil Rel Howery, Colin O'Donoghue, John Ratzenberger, Adelynn Spoon, and Eva Noblezada, who plays Sam.
Now, Apple TV has dropped a brand-new trailer for Luck, putting the spotlight on Bob, a black cat played by Pegg, as he guides viewers through the land of good luck and bad luck. The trailer follows Bob on a tour of the Land of Luck, where humans are forbidden to visit. The teaser also features some animals hard at work in the "good luck" and "bad luck" departments and how they impact the fortunes of humans in the outside world. However, they receive an unexpected and unwelcome surprise when Sam unexpectedly steps inside. Check out the trailer below:
Luck marks Apple's first animated film as part of their multiple-movie deal with Skydance Animation. The film also happens to be one of several animated films to come out in 2022 that center around a group of animals, including the well-received The Bad Guys and the upcoming DC League of Super-Pets, to name a few. But given the studio giant's recent success in the animation department, with films like 2020's Oscar-nominated pic Wolfwalkers, coupled with the extremely talented voice cast featured onscreen, audiences can expect a uniquely entertaining ride when they tune in to Luck on Apple TV+ on August 5th.
Source: Apple TV
#Simon #Pegg #Unlucky #Cat #Luck #Trailer
Simon Pegg Is An Unlucky Cat In New Luck Trailer
Skydance Animation releases a brand-new trailer for their first-ever animated feature film, Luck, which is set to debut on Apple TV+ this August. Starring Simon Pegg in the lead role, Luck revolves around Sam Greenfield, the unluckiest girl in the world. When she stumbles upon the never-before-seen Land of Luck, she must team up with magical creatures to turn her luck around and defeat a force more powerful than luck itself. Pegg is joined by a cast that includes Jane Fonda, Whoopi Goldberg, Flula Borg, Lil Rel Howery, Colin O'Donoghue, John Ratzenberger, Adelynn Spoon, and Eva Noblezada, who plays Sam.
Now, Apple TV has dropped a brand-new trailer for Luck, putting the spotlight on Bob, a black cat played by Pegg, as he guides viewers through the land of good luck and bad luck. The trailer follows Bob on a tour of the Land of Luck, where humans are forbidden to visit. The teaser also features some animals hard at work in the "good luck" and "bad luck" departments and how they impact the fortunes of humans in the outside world. However, they receive an unexpected and unwelcome surprise when Sam unexpectedly steps inside. Check out the trailer below:
Luck marks Apple's first animated film as part of their multiple-movie deal with Skydance Animation. The film also happens to be one of several animated films to come out in 2022 that center around a group of animals, including the well-received The Bad Guys and the upcoming DC League of Super-Pets, to name a few. But given the studio giant's recent success in the animation department, with films like 2020's Oscar-nominated pic Wolfwalkers, coupled with the extremely talented voice cast featured onscreen, audiences can expect a uniquely entertaining ride when they tune in to Luck on Apple TV+ on August 5th.
Source: Apple TV
#Simon #Pegg #Unlucky #Cat #Luck #Trailer
---
Synthetic: Vik News