Feature
The cheapest board game deals for May 2022 – save money with the best discounts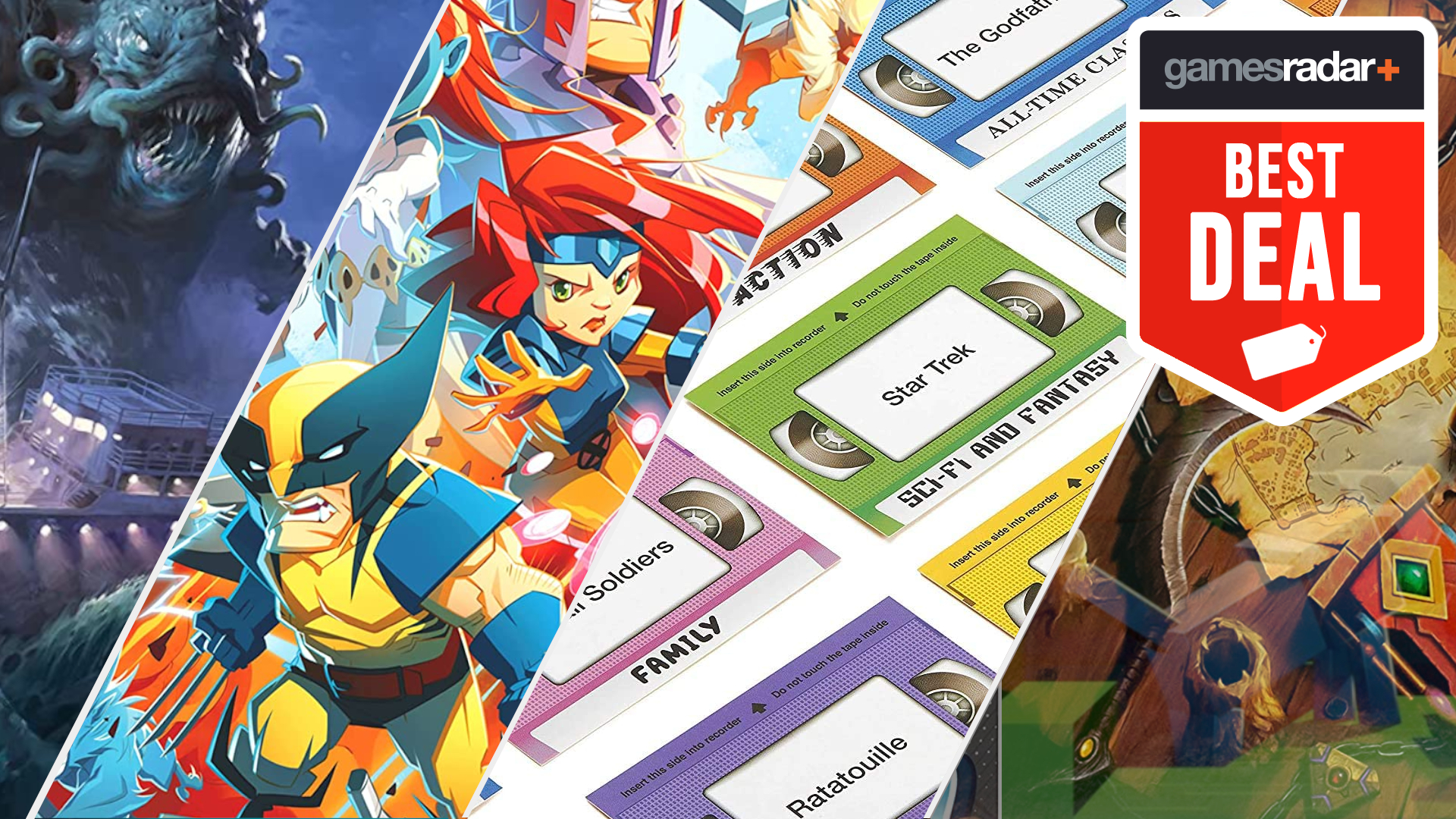 There's no need to wait until sales season to find great board game deals. Indeed, the best board games are often discounted all year 'round. That means you can save a hefty sum of money on everything from beloved classics to modern strategy epics if you know where to look.
To save you from traipsing around the internet in search of a good offer, we've been busy rounding up the top board game deals of the week right here. If there's a bargain to be had, we'll let you know below. For example, fantastic party game Blockbuster has tumbled by 67% to a frankly absurd $7.31 at Amazon, while family favorite Photosynthesis is available from Amazon for a reduced price of $29.99. Alternatively, you can opt for fun modern classic P for Pizza with a 14% Amazon discount.
These are just the tip of the iceberg, so be sure to drop in every now and then to see if any games on your wishlist are enjoying a discount. Board game deals come and go with alarming frequency (particularly as we approach this year's Prime Day board game deals), so there's almost always a reduction to take advantage of – if you're quick, anyway.
Today's board game deals
Blockbuster | $19.99 $7.31 at Amazon
Save 67% – It's very rare to see this must-have party game drop so radically in price, and we can't recommend grabbing it enough. Usually sitting closer to $15 in total, this reduction brings Blockbuster (a game that's equal parts quiz and charades) into impulse-purchase territory.
UK price: £18.99 at Amazon (no discount)
View Deal
P for Pizza | $15 $12.97 at Amazon
Save 14% – Need good, quick board games for 2 players that aren't going to tax you too much in the brainpower department? Although this is an excellent choice for parties, we find it to be a great option for couples. That's its lowest ever price, too.
UK price: £12.95 at Amazon (no discount)
View Deal
Monopoly: Animal Crossing New Horizons Edition | $27.99 $17.98 at Amazon
Save 25% – If you're a fan of the Animal Crossing franchise, this version of Monopoly is the only one you need. With a focus on collecting fruit, fossils, and bugs to sell for Bells rather than becoming a property magnate, it's a more cheerful take on the classic game. And for $10 less, you can't really go wrong.

UK price: £31.99 £24 at Amazon

View Deal
Back to the Future: Back in Time | $29.99 $18.51 at Amazon
Save 38% – Feeling nostalgic? You can currently get an impressive $15 off this adaptation, and it's stuffed with retro charm. For starters, it's a race against time; you have just 50 minutes to ready the DeLorean and hit 88mph. Meanwhile, Biff and his gang are trying to catch you. Seeing as this one's by the famed Prospero Hall (the team behind Villainous), it's well worth a look.
UK price: £27.28 at Amazon (no discount)
View Deal
Marvel United X-Men | $34.99 $22.99 at Amazon
Save 34% – This new and rather adorable take on the Marvel universe has tumbled to what is nearly its lowest ever price in today's board game deals, so now's the time to pounce if you were looking for a new strategy-lite experience to sink your adamantium claws into.
UK price: Currently unavailable
View Deal
Photosynthesis | $39.99 $29.99 at Amazon
Save 25% – That might not be the game's lowest ever price, but it's the cheapest Photosynthesis has been since September 2021 (it's been sitting at roughly $35 until now). As such, it's one of the standouts from today's board game deals, particularly because this is such a good chillout board game for families.
UK price: £26.91 at Amazon (no discount)
View Deal
Arkham Horror: Final Hour | $35.36 $29.99 at Amazon
Save 15% – As we mentioned in our Arkham Horror: Final Hour review, it's a brilliantly streamlined take on the long-running Arkham formula… and we've got no problem recommending it at that price. It's a tense and frantic race against time that's a satisfying co-op experience, so give it a try if you enjoyed Pandemic, Betrayal at House on the Hill, or other Arkham games.
UK price: £26.98 at Amazon (no discount)
View Deal
Gloomhaven: Jaws of the Lion | $49.99 $31.99 at Amazon
Save 36% – The smaller, leaner version of Gloomhaven had returned to its Black Friday price in this week's board game deals Although it's now lost the extra discount that was available last week via a coupon, this is still a very good price. We'd recommend jumping on that bandwagon while the going is good, especially if you're put off by the price of the monstrously-sized original game; Jaws of the Lion is a great introduction to the fantasy world of story-driven dungeon-crawling.
UK price: £42.37 £39.79 at Zatu Games
View Deal
Ticket to Ride | $54.99 $34.38 at Amazon
Save 37% – Want something a little more relaxing? Of all the board game deals on this page, Ticket to Ride is for you. Thanks to moreish gameplay and enough strategy to keep you invested but not overwhelmed, it's definitely worth considering at the price. Sure, this isn't its lowest cost by quite a long way (it was $19.98 briefly during 2019), but it doesn't commonly dip much below £40 so this is a good price, all things considered.
UK price: £39.99 £24.60 at Amazon
View Deal
Pandemic | $44.99 $35.99 at Amazon
Save 20% – It feels like Pandemic is eternally on offer, so the trick is holding on until it dips below a certain threshold. While this discount is at the higher end of the spectrum, it's not an unreasonable offer for the excellent co-op experience you're getting (this one is a must-have).
UK price: £39.99 £24.95 at Amazon

View Deal
King of Tokyo Dark Edition | $44.99 $38.99 at Amazon
Save 22% – Despite being thoroughly brooding in its design, King of Tokyo Dark Edition is the perfect family game. As a reimagined version of the classic King of Tokyo where you play as a monster that gets points for the amount of chaos they cause in the city, this alternative is gorgeous to look at and has fallen back to its Black Friday price. Don't miss it now that it's been reduced again for the week's board game deals.
UK price: £49.99 at Amazon (no discount)
View Deal
Dune | $50 $42.82 at Amazon
Save 14% – A revitalization of the classic Dune board game, this fan-favorite rarely dips much lower than $50 in price… which makes its inclusion in today's board game deals all the more noteworthy. If you want something more strategic, this blends asymmetric warfare and diplomacy together well enough that it's still going strong 40 years after release.
UK price: £39.99 £36.22 at Amazon

View Deal
Fallout: The Board Game | $69.99 $43.80 at Amazon
Save 37% – War never changes, and sometimes, it feels as if prices don't either. That's why we're very happy to see this Fallout-themed adventure hitting its lowest price since Black Friday 2021. While it has been cheaper in the past (it once tumbled to a ridiculous $27.99), that's still a very reasonable offer on an excellent RPG that replicates everything great about the franchise for tabletop.
UK price: £69.99 £49.48 at Amazon

View Deal
Wingspan | $60 $47.33 at Amazon
Save 21% – Although this isn't the relaxing family game's lowest price, it's still a fair shake lower than Wingspan's average cost (it normally weighs in at around $59). As such, this offer's worth considering unless you're willing to wait until summer (it crashed down in price during June and July of 2021) or sales season during the fall.
UK price: £59.99 £42.83 at Amazon
View Deal
Bunny Kingdom | $51.99 $49.70 at Amazon
Save 24% – Think you can conquer the world? The bunny overlord demands it. As this would suggest, the idea behind Bunny Kingdom is brilliantly bizarre, and the strategy underpinning it all is equally fantastic. It's worth a look at 24% less, and that's the cheapest this game has been since roughly October 2021, too.
UK price: £49.99 £34.99 at Zavvi

View Deal
Terraforming Mars | $69.95 $54.82at Amazon
Save 21% – This is the kind of game that's always popular, and it regularly finds its way onto top 10 lists even though it came out years ago. That's why this 21% discount is so eye-catching. That isn't Terraforming Mars' lowest ever price, true, but it is usually a good bit more expensive than this (more like $65+, at least in the last few months).
UK price: £47.99 £41.79 at Zatu Games

View Deal
Unfathomable | $79.95 $63.96 at Amazon
Save 20% – This is the lowest ever price for the recently released Unfathomable, a new addition to the Arkham Horror franchise. Sure, that $15.99 reduction might seem modest, but for such a new – and genuinely excellent – game, you could do much worse. A great way to kick off this week's board game deals.
UK price: £64.59 at Amazon (no discount)
View Deal
Horizon Zero Dawn: The Board Game | $99.95 $68 at Amazon
Save 32% – Fans of the Horizon franchise should give this board game deal a go; it skilfully replicates the feel of the series without being a rehash of the video game storyline (you're an unnamed hunter tracking down robot monsters). Because this offer is only a few dollars off the game's lowest ever price, now's a good time to strike on what is normally an expensive tie-in.
UK price: £89.99 £73.89 at Zatu Games
View Deal
Oath: Chronicles of Empire & Exile | $120 $86.93 at Amazon
Save 24% – Rarely falling below $100, this discount on the strategy game of 2021 is one of this week's most eye-catching board game deals. Just don't be fooled by Amazon's price inflation; it usually has an MSRP of $120, not $160.
UK price: £110 £87.47 at Wayland Games
View Deal
Board game deals – tips and tricks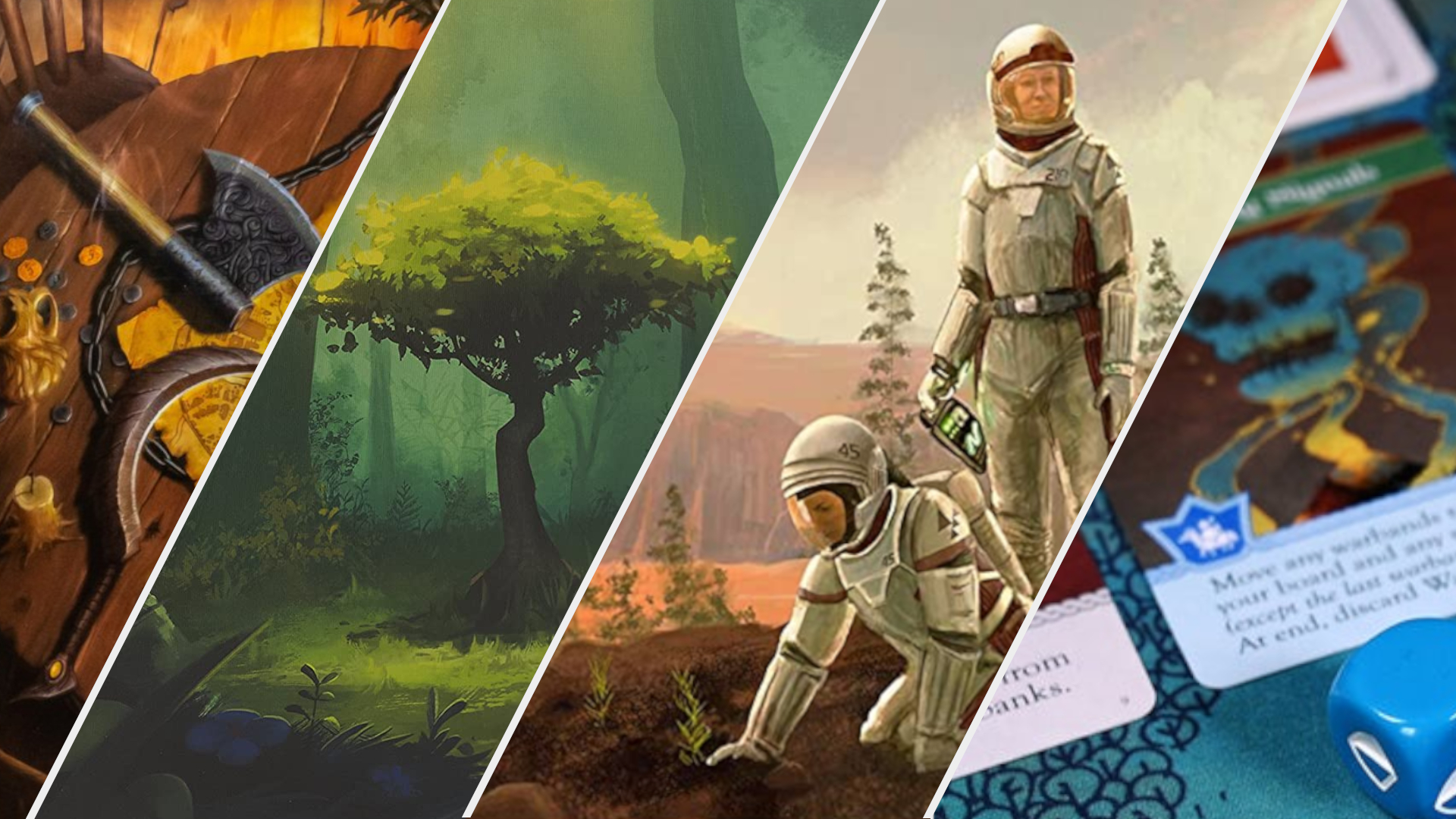 (Image credit: Cephalofair Games / Blue Orange / Stronghold Games / Leder Games)
Where will I find good board game deals?
If you're on the prowl for board game deals, we'd always recommend starting with Amazon. While this may seem like a copout, the retail giant is consistently excellent where discounts (and variety) are concerned. 
That doesn't mean you should ignore everything else, though. Walmart occasionally impresses with its reductions, and small, independent stores like Wayland Games in the UK have a habit of sneaking solid prices through the door.
Here are our top picks for your region.
USA
– Amazon: Usually best for board game discounts and variety overall
– Best Buy: Offers surprisingly eclectic deals, including niche hobby games
– Walmart: Excellent for board games aimed at kids or families
– Target: Offers variety and occasional price cuts for hobby games
UK
– Amazon: Traditionally the most reliable for variety and price-cuts
– Very: Solid (if modest) discounts on a wide range of games
– Wayland Games: Great for niche titles and wargames
– John Lewis: Good for classic family board games
How to make the most of board game deals
Board games are often discounted; it isn't a normal day of the week without something like Pandemic enjoying a price cut. That makes it worth checking cost comparison sites such as CamelCamelCamel to ensure you're getting maximum value for money. 
That's how we identify and bring you the very best board game deals. Checking in on price-matching software allows us to figure out a product's average sale value, its biggest discount to date, and whether this particular offer is worth your time.
Should I wait until the Black Friday board game deals?
If this was any other industry, we'd suggest holding off on big purchases until those November sales arrive. But that's not the case with tabletop gaming. While more expensive hobby titles hit record low prices in November, decent board game deals you'll actually want do appear throughout the year. That means there's no harm in having a look now, and you don't need to wait until the Black Friday board game deals begin at the end of the year; unless we're talking about the likes of Gloomhaven, you won't be much better off if you wait.
---
Want to find out what you should keep an eye on? Don't miss our guides to the best cooperative board games, good board games for 2 players, the best card games, or the top board games for kids.
Today's top board game deals at a glanceReduced Price
Carcassone
$39.99$33.59View DealSee all pricesReduced Price
Czech Games Codenames: Duet
$24.95$13.99View DealSee all pricesReduced Price
Ravensburger Disney Villainous
$39.99$34.98View DealSee all pricesReduced Price
Z-Man Games Pandemic
$44.99$35.99View DealSee all pricesReduced Price
Catan board game
$55$44View DealSee all prices
Avalon Hill Betrayal at House on the
$149.99View DealSee all prices
Fantasy Flight Games Arkham Horror
$16.99View DealSee all prices
Ravensburger Marvel Villainous:
$39.11View DealSee all pricesReduced Price
Leder Games Root
$40$31.45View DealSee all pricesWe check over 250 million products every day for the best prices
---
More information
The cheapest board game deals for May 2022 – save money with the best discounts
There's no need to wait until sales season to find great board game deals. Indeed, the best board games are often discounted all year 'round. That means you can save a hefty sum of money on everything from beloved classics to modern strategy epics if you know where to look.
To save you from traipsing around the internet in search of a good offer, we've been busy rounding up the top board game deals of the week right here. If there's a bargain to be had, we'll let you know below. For example, fantastic party game Blockbuster has tumbled by 67% to a frankly absurd $7.31 at Amazon, while family favorite Photosynthesis is available from Amazon for a reduced price of $29.99. Alternatively, you can opt for fun modern classic P for Pizza with a 14% Amazon discount.
These are just the tip of the iceberg, so be sure to drop in every now and then to see if any games on your wishlist are enjoying a discount. Board game deals come and go with alarming frequency (particularly as we approach this year's Prime Day board game deals), so there's almost always a reduction to take advantage of – if you're quick, anyway.
Today's board game deals
Blockbuster | $19.99 $7.31 at AmazonSave 67% – It's very rare to see this must-have party game drop so radically in price, and we can't recommend grabbing it enough. Usually sitting closer to $15 in total, this reduction brings Blockbuster (a game that's equal parts quiz and charades) into impulse-purchase territory.
UK price: £18.99 at Amazon (no discount)
View Deal
P for Pizza | $15 $12.97 at AmazonSave 14% – Need good, quick board games for 2 players that aren't going to tax you too much in the brainpower department? Although this is an excellent choice for parties, we find it to be a great option for couples. That's its lowest ever price, too.
UK price: £12.95 at Amazon (no discount)
View Deal
Monopoly: Animal Crossing New Horizons Edition | $27.99 $17.98 at AmazonSave 25% – If you're a fan of the Animal Crossing franchise, this version of Monopoly is the only one you need. With a focus on collecting fruit, fossils, and bugs to sell for Bells rather than becoming a property magnate, it's a more cheerful take on the classic game. And for $10 less, you can't really go wrong.
UK price: £31.99 £24 at Amazon
View Deal
Back to the Future: Back in Time | $29.99 $18.51 at AmazonSave 38% – Feeling nostalgic? You can currently get an impressive $15 off this adaptation, and it's stuffed with retro charm. For starters, it's a race against time; you have just 50 minutes to ready the DeLorean and hit 88mph. Meanwhile, Biff and his gang are trying to catch you. Seeing as this one's by the famed Prospero Hall (the team behind Villainous), it's well worth a look.
UK price: £27.28 at Amazon (no discount)
View Deal
Marvel United X-Men | $34.99 $22.99 at AmazonSave 34% – This new and rather adorable take on the Marvel universe has tumbled to what is nearly its lowest ever price in today's board game deals, so now's the time to pounce if you were looking for a new strategy-lite experience to sink your adamantium claws into.
UK price: Currently unavailable
View Deal
Photosynthesis | $39.99 $29.99 at AmazonSave 25% – That might not be the game's lowest ever price, but it's the cheapest Photosynthesis has been since September 2021 (it's been sitting at roughly $35 until now). As such, it's one of the standouts from today's board game deals, particularly because this is such a good chillout board game for families.
UK price: £26.91 at Amazon (no discount)
View Deal
Arkham Horror: Final Hour | $35.36 $29.99 at AmazonSave 15% – As we mentioned in our Arkham Horror: Final Hour review, it's a brilliantly streamlined take on the long-running Arkham formula… and we've got no problem recommending it at that price. It's a tense and frantic race against time that's a satisfying co-op experience, so give it a try if you enjoyed Pandemic, Betrayal at House on the Hill, or other Arkham games.
UK price: £26.98 at Amazon (no discount)
View Deal
Gloomhaven: Jaws of the Lion | $49.99 $31.99 at AmazonSave 36% – The smaller, leaner version of Gloomhaven had returned to its Black Friday price in this week's board game deals Although it's now lost the extra discount that was available last week via a coupon, this is still a very good price. We'd recommend jumping on that bandwagon while the going is good, especially if you're put off by the price of the monstrously-sized original game; Jaws of the Lion is a great introduction to the fantasy world of story-driven dungeon-crawling.
UK price: £42.37 £39.79 at Zatu Games
View Deal
Ticket to Ride | $54.99 $34.38 at AmazonSave 37% – Want something a little more relaxing? Of all the board game deals on this page, Ticket to Ride is for you. Thanks to moreish gameplay and enough strategy to keep you invested but not overwhelmed, it's definitely worth considering at the price. Sure, this isn't its lowest cost by quite a long way (it was $19.98 briefly during 2019), but it doesn't commonly dip much below £40 so this is a good price, all things considered.
UK price: £39.99 £24.60 at Amazon
View Deal
Pandemic | $44.99 $35.99 at AmazonSave 20% – It feels like Pandemic is eternally on offer, so the trick is holding on until it dips below a certain threshold. While this discount is at the higher end of the spectrum, it's not an unreasonable offer for the excellent co-op experience you're getting (this one is a must-have).
UK price: £39.99 £24.95 at Amazon
View Deal
King of Tokyo Dark Edition | $44.99 $38.99 at AmazonSave 22% – Despite being thoroughly brooding in its design, King of Tokyo Dark Edition is the perfect family game. As a reimagined version of the classic King of Tokyo where you play as a monster that gets points for the amount of chaos they cause in the city, this alternative is gorgeous to look at and has fallen back to its Black Friday price. Don't miss it now that it's been reduced again for the week's board game deals.
UK price: £49.99 at Amazon (no discount)
View Deal
Dune | $50 $42.82 at AmazonSave 14% – A revitalization of the classic Dune board game, this fan-favorite rarely dips much lower than $50 in price… which makes its inclusion in today's board game deals all the more noteworthy. If you want something more strategic, this blends asymmetric warfare and diplomacy together well enough that it's still going strong 40 years after release.
UK price: £39.99 £36.22 at Amazon
View Deal
Fallout: The Board Game | $69.99 $43.80 at AmazonSave 37% – War never changes, and sometimes, it feels as if prices don't either. That's why we're very happy to see this Fallout-themed adventure hitting its lowest price since Black Friday 2021. While it has been cheaper in the past (it once tumbled to a ridiculous $27.99), that's still a very reasonable offer on an excellent RPG that replicates everything great about the franchise for tabletop.
UK price: £69.99 £49.48 at Amazon
View Deal
Wingspan | $60 $47.33 at AmazonSave 21% – Although this isn't the relaxing family game's lowest price, it's still a fair shake lower than Wingspan's average cost (it normally weighs in at around $59). As such, this offer's worth considering unless you're willing to wait until summer (it crashed down in price during June and July of 2021) or sales season during the fall.
UK price: £59.99 £42.83 at Amazon
View Deal
Bunny Kingdom | $51.99 $49.70 at AmazonSave 24% – Think you can conquer the world? The bunny overlord demands it. As this would suggest, the idea behind Bunny Kingdom is brilliantly bizarre, and the strategy underpinning it all is equally fantastic. It's worth a look at 24% less, and that's the cheapest this game has been since roughly October 2021, too.
UK price: £49.99 £34.99 at Zavvi
View Deal
Terraforming Mars | $69.95 $54.82at AmazonSave 21% – This is the kind of game that's always popular, and it regularly finds its way onto top 10 lists even though it came out years ago. That's why this 21% discount is so eye-catching. That isn't Terraforming Mars' lowest ever price, true, but it is usually a good bit more expensive than this (more like $65+, at least in the last few months).
UK price: £47.99 £41.79 at Zatu Games
View Deal
Unfathomable | $79.95 $63.96 at AmazonSave 20% – This is the lowest ever price for the recently released Unfathomable, a new addition to the Arkham Horror franchise. Sure, that $15.99 reduction might seem modest, but for such a new – and genuinely excellent – game, you could do much worse. A great way to kick off this week's board game deals.
UK price: £64.59 at Amazon (no discount)
View Deal
Horizon Zero Dawn: The Board Game | $99.95 $68 at AmazonSave 32% – Fans of the Horizon franchise should give this board game deal a go; it skilfully replicates the feel of the series without being a rehash of the video game storyline (you're an unnamed hunter tracking down robot monsters). Because this offer is only a few dollars off the game's lowest ever price, now's a good time to strike on what is normally an expensive tie-in.
UK price: £89.99 £73.89 at Zatu Games
View Deal
Oath: Chronicles of Empire & Exile | $120 $86.93 at AmazonSave 24% – Rarely falling below $100, this discount on the strategy game of 2021 is one of this week's most eye-catching board game deals. Just don't be fooled by Amazon's price inflation; it usually has an MSRP of $120, not $160.
UK price: £110 £87.47 at Wayland Games
View Deal
Board game deals – tips and tricks
(Image credit: Cephalofair Games / Blue Orange / Stronghold Games / Leder Games)
Where will I find good board game deals?
If you're on the prowl for board game deals, we'd always recommend starting with Amazon. While this may seem like a copout, the retail giant is consistently excellent where discounts (and variety) are concerned. 
That doesn't mean you should ignore everything else, though. Walmart occasionally impresses with its reductions, and small, independent stores like Wayland Games in the UK have a habit of sneaking solid prices through the door.
Here are our top picks for your region.
USA
– Amazon: Usually best for board game discounts and variety overall– Best Buy: Offers surprisingly eclectic deals, including niche hobby games– Walmart: Excellent for board games aimed at kids or families– Target: Offers variety and occasional price cuts for hobby games
UK
– Amazon: Traditionally the most reliable for variety and price-cuts– Very: Solid (if modest) discounts on a wide range of games– Wayland Games: Great for niche titles and wargames
– John Lewis: Good for classic family board games
How to make the most of board game deals
Board games are often discounted; it isn't a normal day of the week without something like Pandemic enjoying a price cut. That makes it worth checking cost comparison sites such as CamelCamelCamel to ensure you're getting maximum value for money. 
That's how we identify and bring you the very best board game deals. Checking in on price-matching software allows us to figure out a product's average sale value, its biggest discount to date, and whether this particular offer is worth your time.
Should I wait until the Black Friday board game deals?
If this was any other industry, we'd suggest holding off on big purchases until those November sales arrive. But that's not the case with tabletop gaming. While more expensive hobby titles hit record low prices in November, decent board game deals you'll actually want do appear throughout the year. That means there's no harm in having a look now, and you don't need to wait until the Black Friday board game deals begin at the end of the year; unless we're talking about the likes of Gloomhaven, you won't be much better off if you wait.
Want to find out what you should keep an eye on? Don't miss our guides to the best cooperative board games, good board games for 2 players, the best card games, or the top board games for kids.
Today's top board game deals at a glanceReduced PriceCarcassone$39.99$33.59View DealSee all pricesReduced PriceCzech Games Codenames: Duet$24.95$13.99View DealSee all pricesReduced PriceRavensburger Disney Villainous$39.99$34.98View DealSee all pricesReduced PriceZ-Man Games Pandemic$44.99$35.99View DealSee all pricesReduced PriceCatan board game$55$44View DealSee all pricesAvalon Hill Betrayal at House on the$149.99View DealSee all pricesFantasy Flight Games Arkham Horror$16.99View DealSee all pricesRavensburger Marvel Villainous:$39.11View DealSee all pricesReduced PriceLeder Games Root$40$31.45View DealSee all pricesWe check over 250 million products every day for the best prices
#cheapest #board #game #deals #save #money #discounts
The cheapest board game deals for May 2022 – save money with the best discounts
There's no need to wait until sales season to find great board game deals. Indeed, the best board games are often discounted all year 'round. That means you can save a hefty sum of money on everything from beloved classics to modern strategy epics if you know where to look.
To save you from traipsing around the internet in search of a good offer, we've been busy rounding up the top board game deals of the week right here. If there's a bargain to be had, we'll let you know below. For example, fantastic party game Blockbuster has tumbled by 67% to a frankly absurd $7.31 at Amazon, while family favorite Photosynthesis is available from Amazon for a reduced price of $29.99. Alternatively, you can opt for fun modern classic P for Pizza with a 14% Amazon discount.
These are just the tip of the iceberg, so be sure to drop in every now and then to see if any games on your wishlist are enjoying a discount. Board game deals come and go with alarming frequency (particularly as we approach this year's Prime Day board game deals), so there's almost always a reduction to take advantage of – if you're quick, anyway.
Today's board game deals
Blockbuster | $19.99 $7.31 at AmazonSave 67% – It's very rare to see this must-have party game drop so radically in price, and we can't recommend grabbing it enough. Usually sitting closer to $15 in total, this reduction brings Blockbuster (a game that's equal parts quiz and charades) into impulse-purchase territory.
UK price: £18.99 at Amazon (no discount)
View Deal
P for Pizza | $15 $12.97 at AmazonSave 14% – Need good, quick board games for 2 players that aren't going to tax you too much in the brainpower department? Although this is an excellent choice for parties, we find it to be a great option for couples. That's its lowest ever price, too.
UK price: £12.95 at Amazon (no discount)
View Deal
Monopoly: Animal Crossing New Horizons Edition | $27.99 $17.98 at AmazonSave 25% – If you're a fan of the Animal Crossing franchise, this version of Monopoly is the only one you need. With a focus on collecting fruit, fossils, and bugs to sell for Bells rather than becoming a property magnate, it's a more cheerful take on the classic game. And for $10 less, you can't really go wrong.
UK price: £31.99 £24 at Amazon
View Deal
Back to the Future: Back in Time | $29.99 $18.51 at AmazonSave 38% – Feeling nostalgic? You can currently get an impressive $15 off this adaptation, and it's stuffed with retro charm. For starters, it's a race against time; you have just 50 minutes to ready the DeLorean and hit 88mph. Meanwhile, Biff and his gang are trying to catch you. Seeing as this one's by the famed Prospero Hall (the team behind Villainous), it's well worth a look.
UK price: £27.28 at Amazon (no discount)
View Deal
Marvel United X-Men | $34.99 $22.99 at AmazonSave 34% – This new and rather adorable take on the Marvel universe has tumbled to what is nearly its lowest ever price in today's board game deals, so now's the time to pounce if you were looking for a new strategy-lite experience to sink your adamantium claws into.
UK price: Currently unavailable
View Deal
Photosynthesis | $39.99 $29.99 at AmazonSave 25% – That might not be the game's lowest ever price, but it's the cheapest Photosynthesis has been since September 2021 (it's been sitting at roughly $35 until now). As such, it's one of the standouts from today's board game deals, particularly because this is such a good chillout board game for families.
UK price: £26.91 at Amazon (no discount)
View Deal
Arkham Horror: Final Hour | $35.36 $29.99 at AmazonSave 15% – As we mentioned in our Arkham Horror: Final Hour review, it's a brilliantly streamlined take on the long-running Arkham formula… and we've got no problem recommending it at that price. It's a tense and frantic race against time that's a satisfying co-op experience, so give it a try if you enjoyed Pandemic, Betrayal at House on the Hill, or other Arkham games.
UK price: £26.98 at Amazon (no discount)
View Deal
Gloomhaven: Jaws of the Lion | $49.99 $31.99 at AmazonSave 36% – The smaller, leaner version of Gloomhaven had returned to its Black Friday price in this week's board game deals Although it's now lost the extra discount that was available last week via a coupon, this is still a very good price. We'd recommend jumping on that bandwagon while the going is good, especially if you're put off by the price of the monstrously-sized original game; Jaws of the Lion is a great introduction to the fantasy world of story-driven dungeon-crawling.
UK price: £42.37 £39.79 at Zatu Games
View Deal
Ticket to Ride | $54.99 $34.38 at AmazonSave 37% – Want something a little more relaxing? Of all the board game deals on this page, Ticket to Ride is for you. Thanks to moreish gameplay and enough strategy to keep you invested but not overwhelmed, it's definitely worth considering at the price. Sure, this isn't its lowest cost by quite a long way (it was $19.98 briefly during 2019), but it doesn't commonly dip much below £40 so this is a good price, all things considered.
UK price: £39.99 £24.60 at Amazon
View Deal
Pandemic | $44.99 $35.99 at AmazonSave 20% – It feels like Pandemic is eternally on offer, so the trick is holding on until it dips below a certain threshold. While this discount is at the higher end of the spectrum, it's not an unreasonable offer for the excellent co-op experience you're getting (this one is a must-have).
UK price: £39.99 £24.95 at Amazon
View Deal
King of Tokyo Dark Edition | $44.99 $38.99 at AmazonSave 22% – Despite being thoroughly brooding in its design, King of Tokyo Dark Edition is the perfect family game. As a reimagined version of the classic King of Tokyo where you play as a monster that gets points for the amount of chaos they cause in the city, this alternative is gorgeous to look at and has fallen back to its Black Friday price. Don't miss it now that it's been reduced again for the week's board game deals.
UK price: £49.99 at Amazon (no discount)
View Deal
Dune | $50 $42.82 at AmazonSave 14% – A revitalization of the classic Dune board game, this fan-favorite rarely dips much lower than $50 in price… which makes its inclusion in today's board game deals all the more noteworthy. If you want something more strategic, this blends asymmetric warfare and diplomacy together well enough that it's still going strong 40 years after release.
UK price: £39.99 £36.22 at Amazon
View Deal
Fallout: The Board Game | $69.99 $43.80 at AmazonSave 37% – War never changes, and sometimes, it feels as if prices don't either. That's why we're very happy to see this Fallout-themed adventure hitting its lowest price since Black Friday 2021. While it has been cheaper in the past (it once tumbled to a ridiculous $27.99), that's still a very reasonable offer on an excellent RPG that replicates everything great about the franchise for tabletop.
UK price: £69.99 £49.48 at Amazon
View Deal
Wingspan | $60 $47.33 at AmazonSave 21% – Although this isn't the relaxing family game's lowest price, it's still a fair shake lower than Wingspan's average cost (it normally weighs in at around $59). As such, this offer's worth considering unless you're willing to wait until summer (it crashed down in price during June and July of 2021) or sales season during the fall.
UK price: £59.99 £42.83 at Amazon
View Deal
Bunny Kingdom | $51.99 $49.70 at AmazonSave 24% – Think you can conquer the world? The bunny overlord demands it. As this would suggest, the idea behind Bunny Kingdom is brilliantly bizarre, and the strategy underpinning it all is equally fantastic. It's worth a look at 24% less, and that's the cheapest this game has been since roughly October 2021, too.
UK price: £49.99 £34.99 at Zavvi
View Deal
Terraforming Mars | $69.95 $54.82at AmazonSave 21% – This is the kind of game that's always popular, and it regularly finds its way onto top 10 lists even though it came out years ago. That's why this 21% discount is so eye-catching. That isn't Terraforming Mars' lowest ever price, true, but it is usually a good bit more expensive than this (more like $65+, at least in the last few months).
UK price: £47.99 £41.79 at Zatu Games
View Deal
Unfathomable | $79.95 $63.96 at AmazonSave 20% – This is the lowest ever price for the recently released Unfathomable, a new addition to the Arkham Horror franchise. Sure, that $15.99 reduction might seem modest, but for such a new – and genuinely excellent – game, you could do much worse. A great way to kick off this week's board game deals.
UK price: £64.59 at Amazon (no discount)
View Deal
Horizon Zero Dawn: The Board Game | $99.95 $68 at AmazonSave 32% – Fans of the Horizon franchise should give this board game deal a go; it skilfully replicates the feel of the series without being a rehash of the video game storyline (you're an unnamed hunter tracking down robot monsters). Because this offer is only a few dollars off the game's lowest ever price, now's a good time to strike on what is normally an expensive tie-in.
UK price: £89.99 £73.89 at Zatu Games
View Deal
Oath: Chronicles of Empire & Exile | $120 $86.93 at AmazonSave 24% – Rarely falling below $100, this discount on the strategy game of 2021 is one of this week's most eye-catching board game deals. Just don't be fooled by Amazon's price inflation; it usually has an MSRP of $120, not $160.
UK price: £110 £87.47 at Wayland Games
View Deal
Board game deals – tips and tricks
(Image credit: Cephalofair Games / Blue Orange / Stronghold Games / Leder Games)
Where will I find good board game deals?
If you're on the prowl for board game deals, we'd always recommend starting with Amazon. While this may seem like a copout, the retail giant is consistently excellent where discounts (and variety) are concerned. 
That doesn't mean you should ignore everything else, though. Walmart occasionally impresses with its reductions, and small, independent stores like Wayland Games in the UK have a habit of sneaking solid prices through the door.
Here are our top picks for your region.
USA
– Amazon: Usually best for board game discounts and variety overall– Best Buy: Offers surprisingly eclectic deals, including niche hobby games– Walmart: Excellent for board games aimed at kids or families– Target: Offers variety and occasional price cuts for hobby games
UK
– Amazon: Traditionally the most reliable for variety and price-cuts– Very: Solid (if modest) discounts on a wide range of games– Wayland Games: Great for niche titles and wargames
– John Lewis: Good for classic family board games
How to make the most of board game deals
Board games are often discounted; it isn't a normal day of the week without something like Pandemic enjoying a price cut. That makes it worth checking cost comparison sites such as CamelCamelCamel to ensure you're getting maximum value for money. 
That's how we identify and bring you the very best board game deals. Checking in on price-matching software allows us to figure out a product's average sale value, its biggest discount to date, and whether this particular offer is worth your time.
Should I wait until the Black Friday board game deals?
If this was any other industry, we'd suggest holding off on big purchases until those November sales arrive. But that's not the case with tabletop gaming. While more expensive hobby titles hit record low prices in November, decent board game deals you'll actually want do appear throughout the year. That means there's no harm in having a look now, and you don't need to wait until the Black Friday board game deals begin at the end of the year; unless we're talking about the likes of Gloomhaven, you won't be much better off if you wait.
Want to find out what you should keep an eye on? Don't miss our guides to the best cooperative board games, good board games for 2 players, the best card games, or the top board games for kids.
Today's top board game deals at a glanceReduced PriceCarcassone$39.99$33.59View DealSee all pricesReduced PriceCzech Games Codenames: Duet$24.95$13.99View DealSee all pricesReduced PriceRavensburger Disney Villainous$39.99$34.98View DealSee all pricesReduced PriceZ-Man Games Pandemic$44.99$35.99View DealSee all pricesReduced PriceCatan board game$55$44View DealSee all pricesAvalon Hill Betrayal at House on the$149.99View DealSee all pricesFantasy Flight Games Arkham Horror$16.99View DealSee all pricesRavensburger Marvel Villainous:$39.11View DealSee all pricesReduced PriceLeder Games Root$40$31.45View DealSee all pricesWe check over 250 million products every day for the best prices
#cheapest #board #game #deals #save #money #discounts
---
Synthetic: Vik News